Written for archiroots, the one place for inspiring sustainable architecture, compliant products, and the latest trends in sustainability.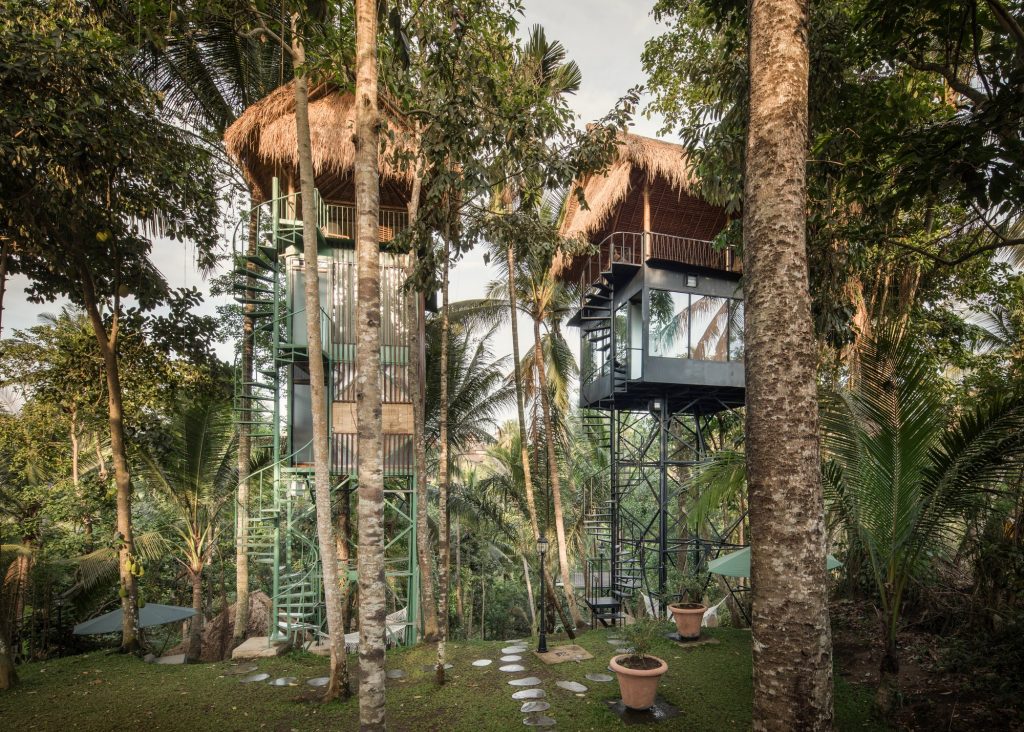 Over the years, the concept of tree houses has increased drastically – and for the right reason. Escape the busyness of the cities, connect with nature & wildlife, and contribute to less impact by being a sustainable traveler and staying at one of these eco friendly tree houses.
From a suite in the jungles of South Africa to a tree house on the beaches of Mexico, here are 7 treetop houses around the world to book on your next travel!
LIFT Treetop Boutique Hotel, Bali, Indonesia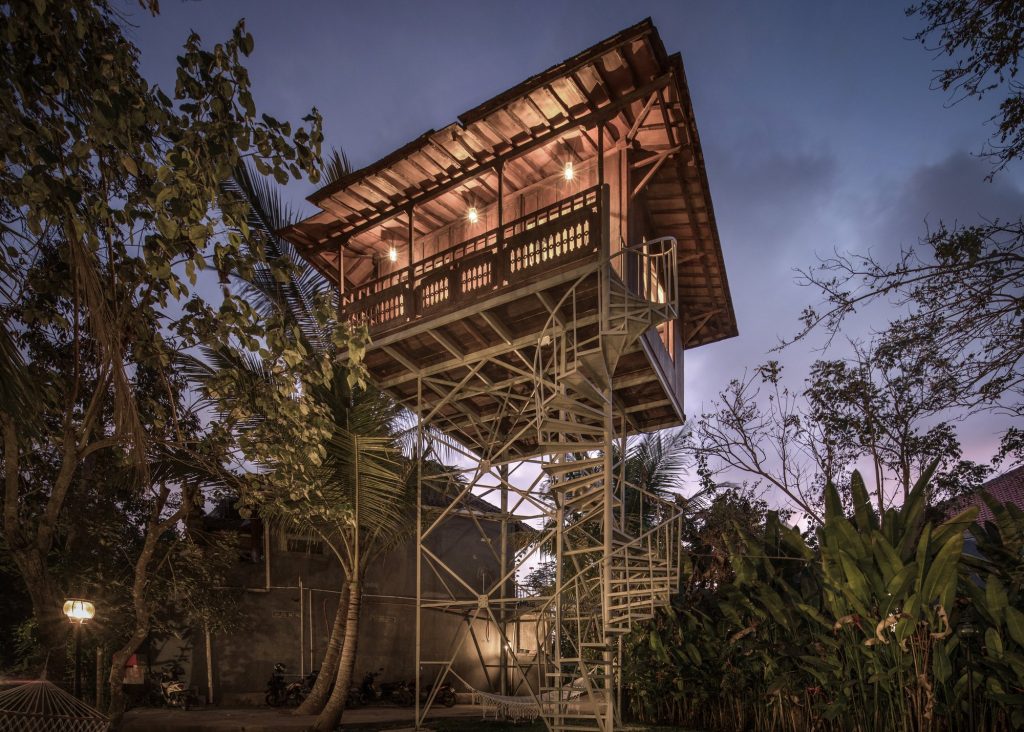 Recently opened in Bali, LIFT Treetop hotel is an architectural experience for the adventurers and explorers.
LIFT is more than just a hotel room. It is a place where travelers escape to, away from the outside world and separated from the ground. Not only does the design avoid negative effect on the natural oasis beneath, but it also utilizes a more temporary application where architecture seems light and experimental.
Location: Ubud, Bali, Indonesia
Price per night: from $25
Book your tree house at LIFT Treetop Boutique Hotel.
Tsala Treetop Lodge, South Africa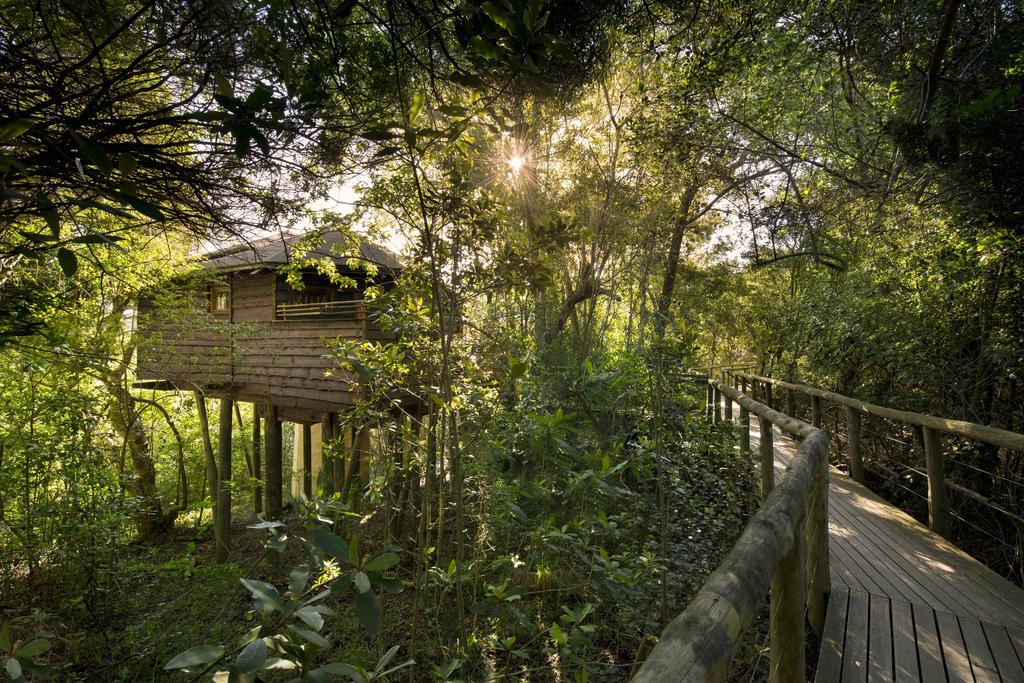 Watching over the Tsitsikamma forest and Plettenburg Bay, Tsala Treetop lodge is home to 10 private tree house suites, each with an infinity pool and a private deck. Moreover, these sustainable tree houses are all connected via wooden walkways that sweep through the forest and in between trees, leaving the forest floor free for animals to roam at their convenience.
Location: Harkerville, South Africa
Price per night: from $300
Book your tree house at Tsala Treetop Lodge.
Finca Bellavista, Costa Rica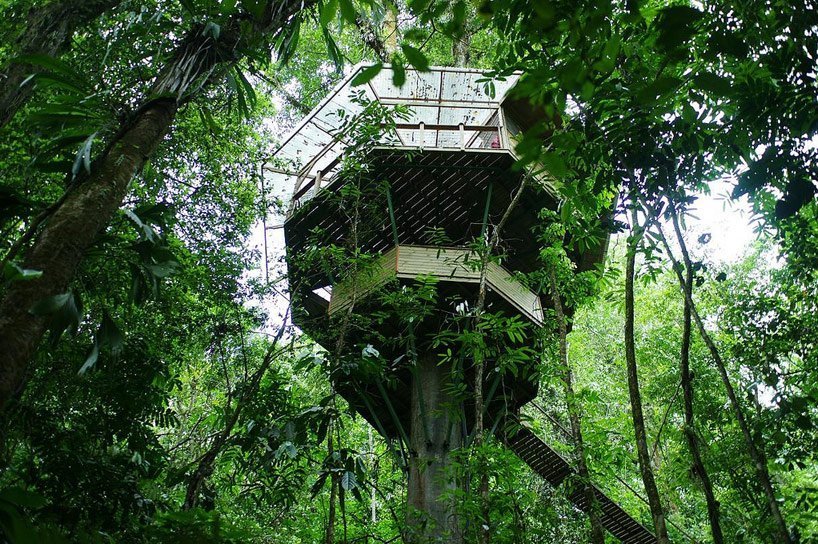 When the owners were then introduced to a plot of land that was to become a timber harvesting site, they quickly decided on saving the area from deforestation and turn it into the Finca Bellavista. Today, it is a unique tree house community, literally in the middle of nowhere. It is self-sustaining with solar energy production, an on-site farm for food, and sustainable architectural designs with natural lighting and cross-ventilation.
In fact, the sustainable tree houses hover over 25 meters above the forest ground and are connected by a series of zip lines and bridges, allowing for an untouched nature and the continuous existence of animal life.
Location: Piedras Blancas, Costa Rica
Price per night: from $275
Book your tree house at Finca Bellavista.
La Sultana Oualidia, Morocco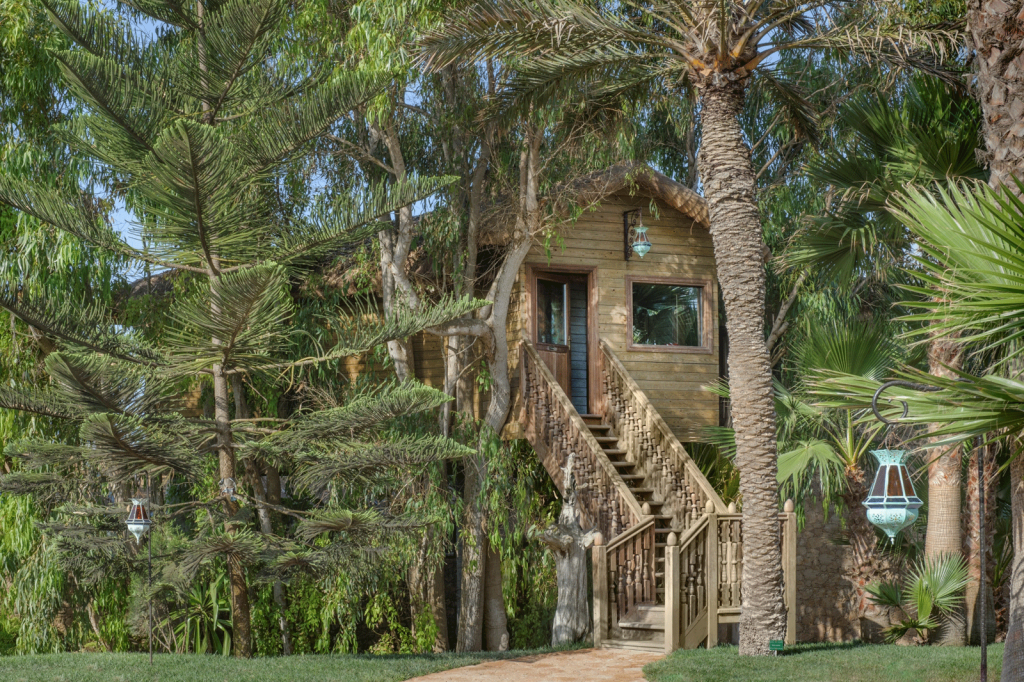 Located at the edge of Morocco's protected lagoon, La Sultana encompasses an eco-friendly 5-star property, hidden along Oualidia's coastal village. Sustainable in design, La Sultana also boasts minimal effect on its surrounding and uses local stone for its buildings & advanced treatments for its water-recycling systems.
Nestled perfectly between the trees is the Tree House Suite which welcomes you with panoramic views of the lagoon and offers a perfectly, sustainable approach in both design and services.
Location: Oualidia, Morocco
Price per night: from $600
Book your tree house at La Sultana Oualidia.
Treehotel, Sweden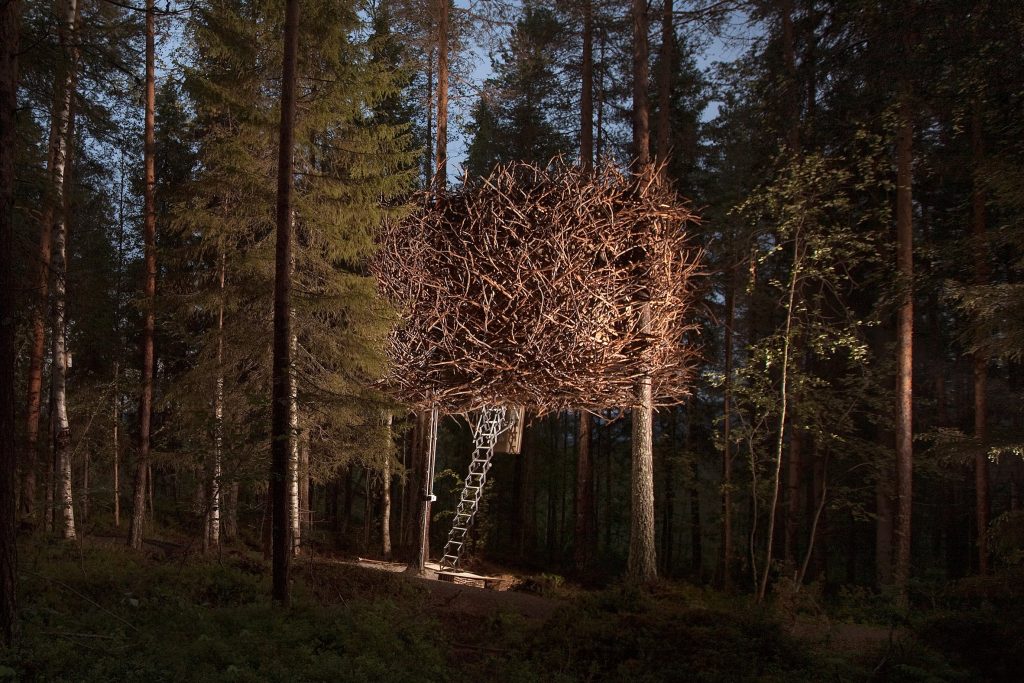 The Treehotel is located in Harads, Sweden about 60 km from the Arctic circle. While each one is built unique in design, the 7 architectural masterpieces are all sustainable, keeping in mind the environment and blending perfectly in nature. Read more about it here.
If you're looking for an atypical place to stay while catching a glimpse of the northern lights, then the Treehotel is just for you. Either sleep in a UFO-styled spaceship that hovers over ground, a gigantic bird's nest supported by the trees, or glass-walled mirror cube that seems to be invisible.
Location: Harads, Sweden
Price per night: from $500
Book your tree house at The Treehotel.
Playa Viva, Mexico

A tree house is almost something everyone dreams of staying in. Now how about a tree house by the beach? You have that right in Mexico! The tree house at Playa Viva is completely designed by eco-friendly material, run by solar power, and is situated next to a turtle sanctuary & within an ancient Aztec town.
This sustainable tree house floats 2 meters above the sand and is supported on bamboo foundations. Also, the architects conceptualized a space that is an extension of the surrounding and that merges inside and out.
Location: Juluchuca, Mexico
Price per night: from $630
Book your tree house at Playa Viva.
Free Spirit Spheres, Canada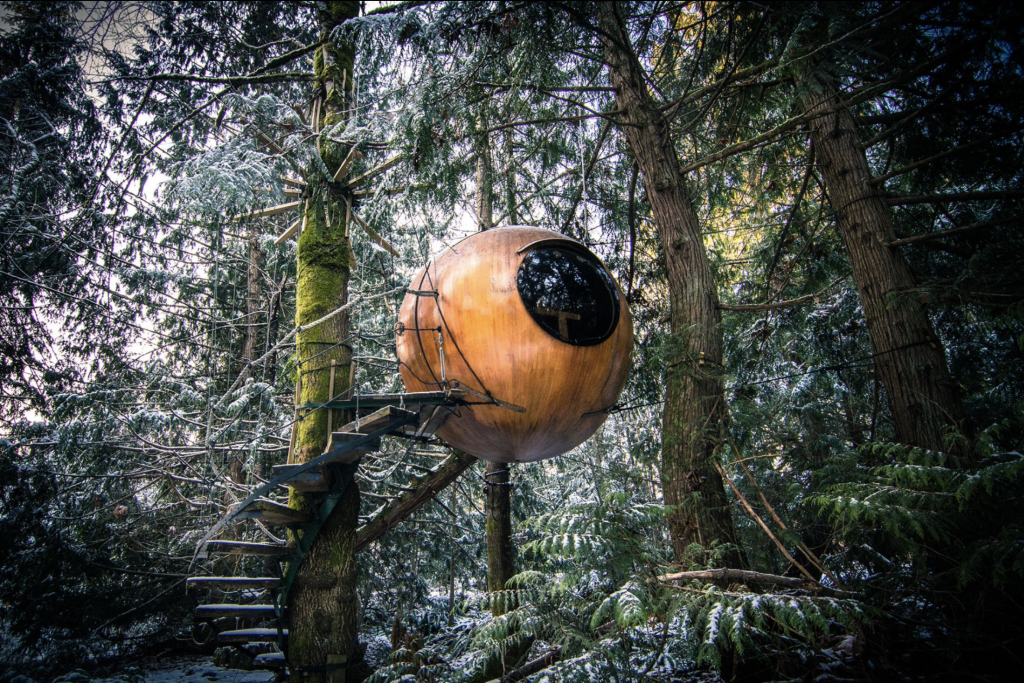 Using the concept of bio mimicry, architect Tom Chudleigh created the Free Spirit Spheres through mimicking spider webs by attaching each sphere to the trees via suspension ropes.
With as little effect as possible, you can stay in one of these spaces which are located in the forests of Vancouver Island. Access is through spiral staircases and bridges.
Location: Vancoucver Island, Canada
Price per night: from $330
Book your tree house at Free Spirit Spheres.
Like this post? Pin it or share it!