A country where towns take you back in time, countrysides present a whole new experience, castles hold many stories waiting to be told, and picturesque landscapes take your breath away, Romania has plenty of off-the-beaten-track wonders just waiting to be explored.
From majestic mountains and beautiful village views to picture-perfect pastel-colored towns and fairytale castles, Romania is definitely worth a visit.
There comes a time when every traveler hopes to be blown away by a country, and our 10 days in Romania were more than enough to make us fall in love. Every step of the way, Romania surprised us with its non-touristic attractions: charming cities and beautiful castles, Yes, but also an underground ice cave, a village sunken in toxic waste, a salt mine turned amusement park…
We had a hard time building up our Romania road trip – mostly because the country is still somewhat off the radar (which we LOVED) – so here's the complete guide to our Romania trip: what to do, where to stay, where to eat the best Romanian food, and what towns you should definitely have on your list.
BUCHAREST
– Day 1 –
We landed in Bucharest early morning, and our car rental agents were waiting for us on arrival.
**** We highly recommend booking a car (especially if you're looking to follow our itinerary) from PROMOTOR RENT A CAR: car upgrade at no extra cost, low deposit fee, timely pick-up and drop-off.
Rent a car in Europe.
–
Hi! We use affiliate links like this one to earn a small commission at no extra cost to you when you book using the links on here.
We spent our first and last day in Bucharest. For us, it wasn't the most charming town in Romania, but it's a great place to get your trip going. We spent our days walking around the old town, past shops, restaurants, and terraces.
And if you're a book lover like me, spend your morning at Carturesti Carusel, the most beautiful bookstore I've ever been to.
WHERE TO STAY
Liad Hotel, just out of the old town, but there are other cool options at the Center Vechi like the Pura Vida Sky Hostel with awesome views from their roof bar.
View more hotels in Bucharest.
BRASOV
– Day 2 –
Bucharest to Brasov: 3 hours 30 minutes
We took the road less traveled through Cheia, and we kept pulling over to take in the sceneries around us. We were now in Transylvania; in Brasov, that charming old town right at the feet of the Carpathian Mountains.
Horses pulling carriages and pastel houses made time stop here. It was a mix of charming, old streets coupled with a lively main square. Bars and cafes took over the old town, but if you looked past the main hub, bakeries and local shops have created a quiet space for themselves amidst the crowd of tourists.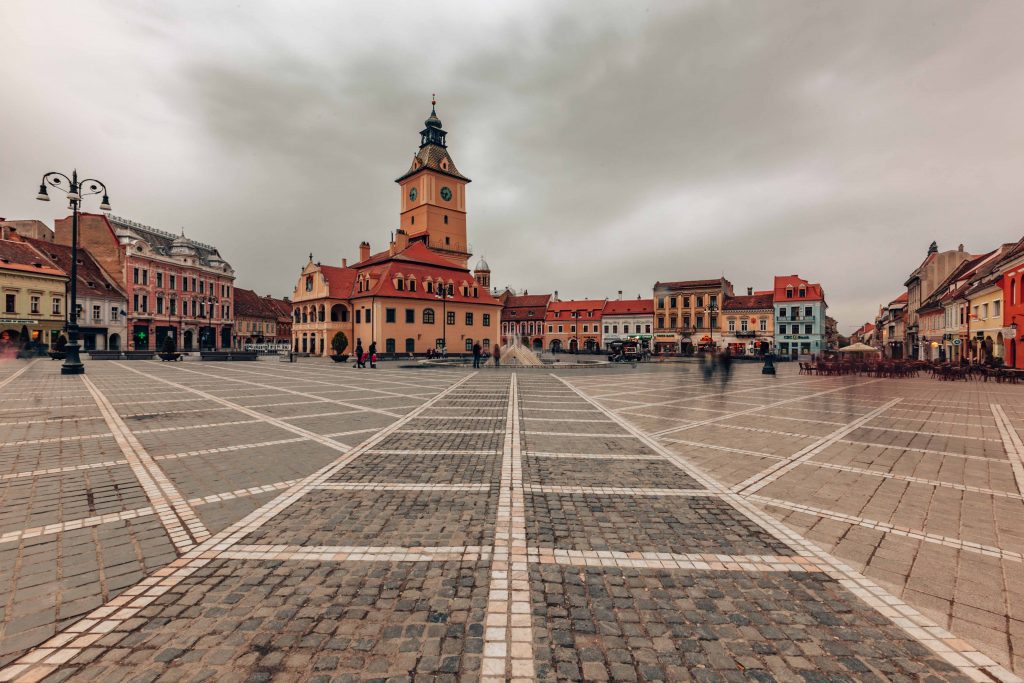 WHERE TO EAT
La Ceaun, recommended by our hotel receptionist, and it didn't disappoint. We actually had lunch the two days we were in Brasov: traditional pork & polenta, pickled cucumber, lamb pastrami and ended with traditional Romanian apple strudel & plum dumplings. (60 RON or 12 euros/person)
WHERE TO STAY
Casa Wagner, in the heart of the old town and one of the oldest buildings in Brasov.
Drachenhaus, right at the foot of Tampa mountain and 3 walking minutes to the main square. The hotel itself looks like a miniature town, with a roofless square and bridges connecting its rooms.
RASNOV CITADEL
– Day 3 –
Brasov to Rasnov Citadel: 30 minutes
Entrace fee: 12 RON.
As you approach the town of Rasnov, your sight directly shifts to the citadel that sits high on the mountain and emerges from the green forest afar.
We spent our morning walking around the edge of the fortress, past the newly-restored architecture that now serves as shops and attractions.
Through the maze of streets inside the citadel, we made it up to the highest point with views over Rasnov and a panorama of Transylvania in the distance.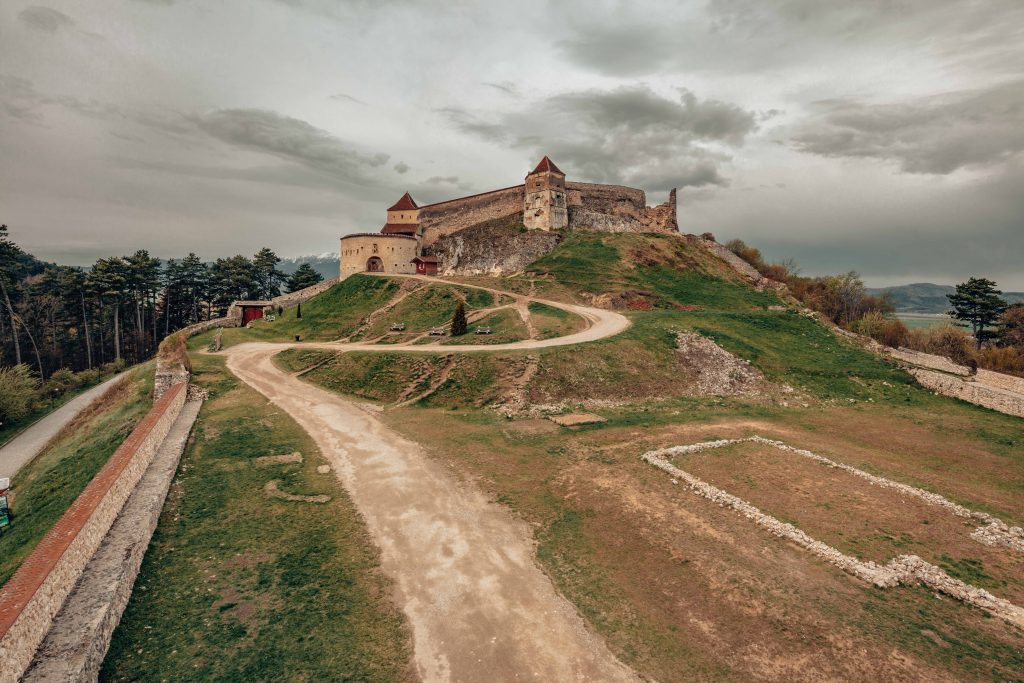 MAGURA
– Day 3 –
Rasnov to Magura: 35 minutes
Right in the heart of Transylvania, in the Piatra Craiului mountains, there's a well-kept secret: the village of Magura. No service, no paved roads, and no crowds of tourists have kept this picturesque village unaffected by the technologies of the modern world. Here, you are welcomed with the traditional, rural Romanian way of life that continues to go on – calmly and modestly.
BRAN & DRACULA'S CASTLE
– Day 3 –
Magura to Bran: 30 minutes
Entrace fee: 40 RON + 20 RON extra for the underground tour.
Bran Castle. One of the attractions that made Romania come up on our travel list. You must have heard the tales of Vlad or Dracula, the blood-sucking vampire from Transylvania, and you must have known that Bran castle was where he lived. Safe to say that was only a myth.
Driving into the small town of Bran, you are met with the castle, perched on a cliff and surrounded by dense trees. We took a tour inside and almost had the place all to ourselves. At sunset, we walked up the mountain facing Bran Castle to get views of the castle and the landscape around it.
WHERE TO STAY
Pension Ana Bran, run by a very nice couple that remind you of your own grandparents. We even had a Castle view from our room. Bonus!
SINAIA
– Day 4 –
Bran to Cantacuzino Castle: 50 minutes
We continued our drive through Sinaia and stopped at Cantacuzino Castle, with views of the Bucegi mountain.
Cantacuzino Castle to Peles Castle: 20 minutes
Peles Castle was the most crowded of all places we checked out in Romania. We heard the interior is so grand and hosts valuable art collections, but we decided to skip the castle tour and took a well-needed break just lying on the grass before our long drive to Sighisoara.
SIGHISOARA
– Day 4 –
Peles Castle to Sighisoara: 3 hours
We fell in love with Sighisoara. As you enter the high walls of the old town, you will quickly notice the colors – almost every architecture here is pastel-colored, which makes Sighisoara a special spot in Transylvania.
The feeling of going back in time is literal: every corner is filled with an ounce of history and every street can tell a story. If you needed another reason to visit, the Sighisoara center is an UNESCO world heritage site and the best preserved, inhabited citadel in Europe.
WHERE TO STAY
Casa Wagner, It's not every day that you spend a night in the center of an UNESCO World Heritage Site, and Casa Wagner was located in the heart of the citadel with the prettiest views to the main square.
View more hotels in Sighisoara.
CLUJ-NAPOCA
– Day 5 –
Sighisoara to Cluj-Napoca: 2 hours 30 minutes
Nicknamed the 'Student City', Cluj-Napoca is the second largest city in Romania. Even though it was too crowded for us, we still wanted to get a real feel of the city, so we wandered around, past St Michael Church which dominates the city center and between the bustling streets and shops.
TURDA
– Day 5-6 –
Cluj-Napoca to Turda: 40 minutes
A former salt mine now turned into a unique, underground attraction reels travelers here. At 120 meters below ground, Salina Turda was out of this world with a futuristic playground, subterranean lake for boat rowing, and fun activities.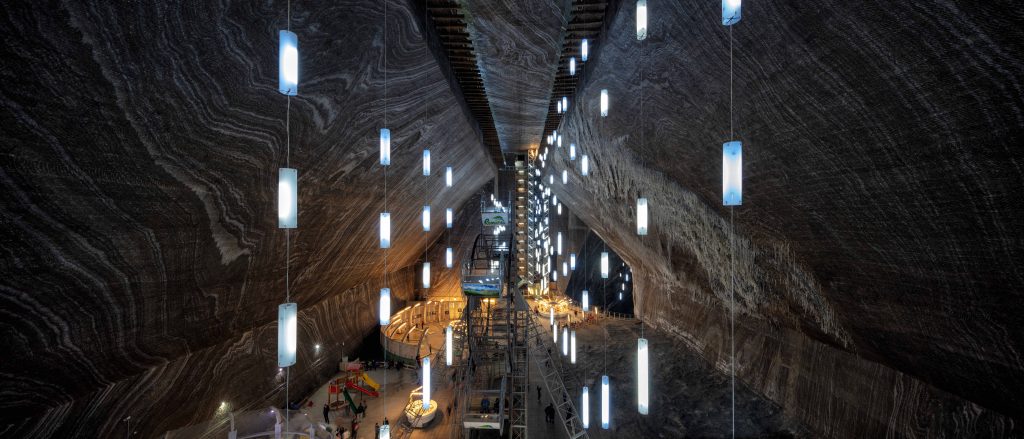 Romania continued to surprise us at every step, and with all the incredible landscapes in the country, the Turda Gorge is the most striking of all its wonders. We watched one of the most beautiful sunsets here.
WHERE TO STAY
Sarea-n Bucate, A winery and hotel, it is located in a beautiful natural landscape and just 5-minutes away from Salina Turda.
ROSIA MONTANA
– Day 6 –
Turda to Rosia Montana: 2 hours
In the Apuseni mountains is a picturesque Romanian village, sitting on years-old mining treasures while offering beautiful, natural landscapes. The rich mineral resources of Rosia Montana have long been exploited until the village was classified as a historic site and mining became prohibited.
But as we drove, our gaze rested upon a Google map of colors, and we were eager to find out what it was. A few minutes away was the village of Geamana, now sunken in toxic waste and a village no more. It was once home to many Romanians, but Geamana, today, is totally engulfed in toxic waste, as a result of the copper mines nearby. All that remains is an artificial lake full of toxic water with the church spire the only reminder of the village.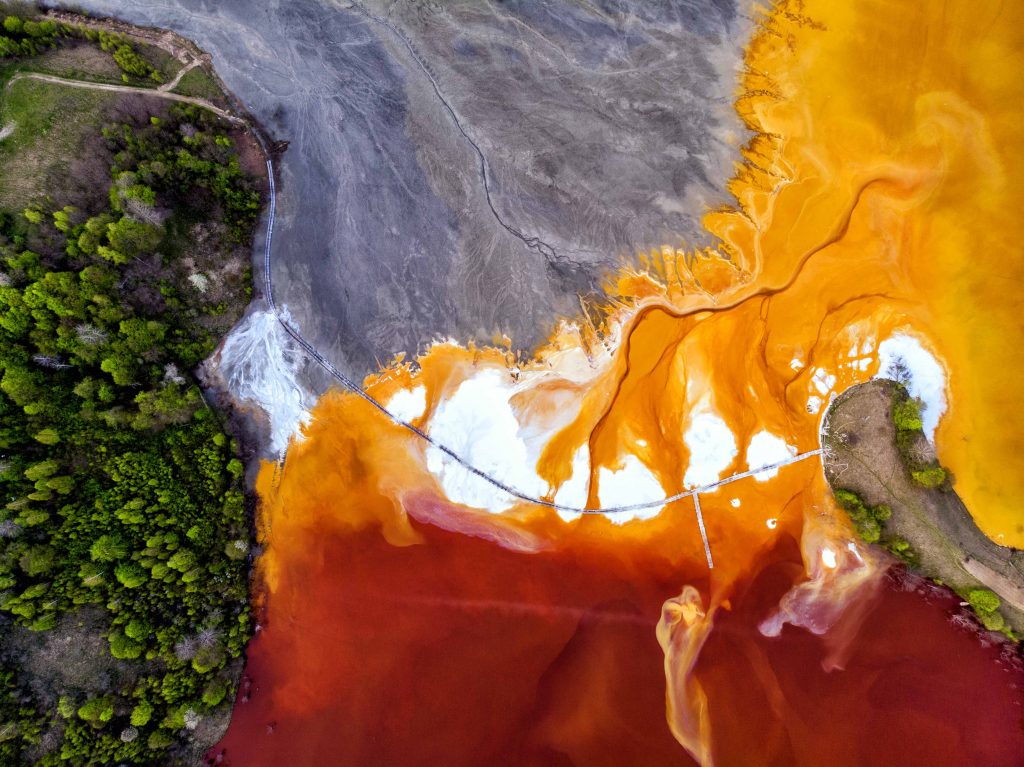 WHERE TO STAY
Casa Manu, We stayed on a FARM! and woke up to the sounds of chickens, cows, and goats. We will never forget this morning, that's for sure!
View more hotels in Rosia Montana.
APUSENI NATIONAL PARK
– Day 7 –
Rosia Montana to Scarisoara Cave: 1 hour 15 minutes
We had our eyes set on Scarisoara Cave in the Apuseni mountains for some time now. On the road, we could notice the change of scenery: no more hotels or tourist kiosks but rather an array of cabins and traditional Romanian huts right at the front of majestic mountains.
Safe to say we had to stop a few times to take in the views.
Entrance fee: 13 RON
Scarisoara Cave is the second largest underground glacier in Europe. Even the drive up to the cave was breathtaking, with nature all around you. We hiked up to the mountain before descending into the 4000-year-old ice cave with stalactites and stalagmites & a temperature high of 1 degree.
We also explored Pestera Poarta Lui Ionele, a less popular cave but still as awesome.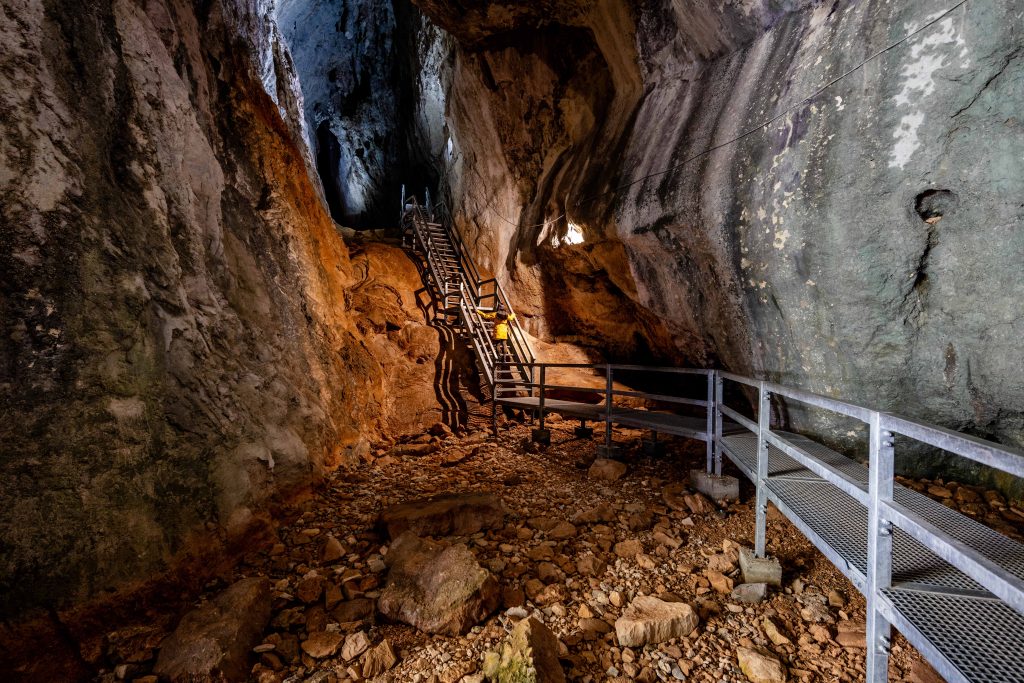 CORVIN'S CASTLE
– Day 8 –
Apuseni Mountains to Corvin's Castle: 2 hours 40 minutes
Entrance fee: 30 RON
Let's be honest. We LOVED exploring Romanian castles, and Corvin's Castle was our favorite. A quintessential fairytale with a dystopian twist. Tall towers which were used as prisons, a dungeon and torture chambers where prisoners were kept, and even a bear pit were some of the features that probably give the castle a "haunted" air.
Corvin's Castle is a perfect example of Gothic architecture with a long wooden bridge as you enter the castle, a Knights' hall for festive occasions like you just stepped into an episode of Game of Thrones, and a large courtyard with charming balconies.
WHERE TO STAY
Corvin and Bedroom, A pleasant place to stay with a comfortable room and a cozy terrace! It's just a 3-minute walk to the castle.
View more hotels in Hunedoara.
SIBIU
– Day 9 –
Corvin's Castle to Sibiu: 1 hour 30 minutes
As perfect as they come, Sibiu was a combination of history, charm, and beauty. When you arrive, you tend to feel like someone is endlessly watching you; not by people, but by houses. This was actually part of the architecture; all houses had windows that appear like eyes staring at you.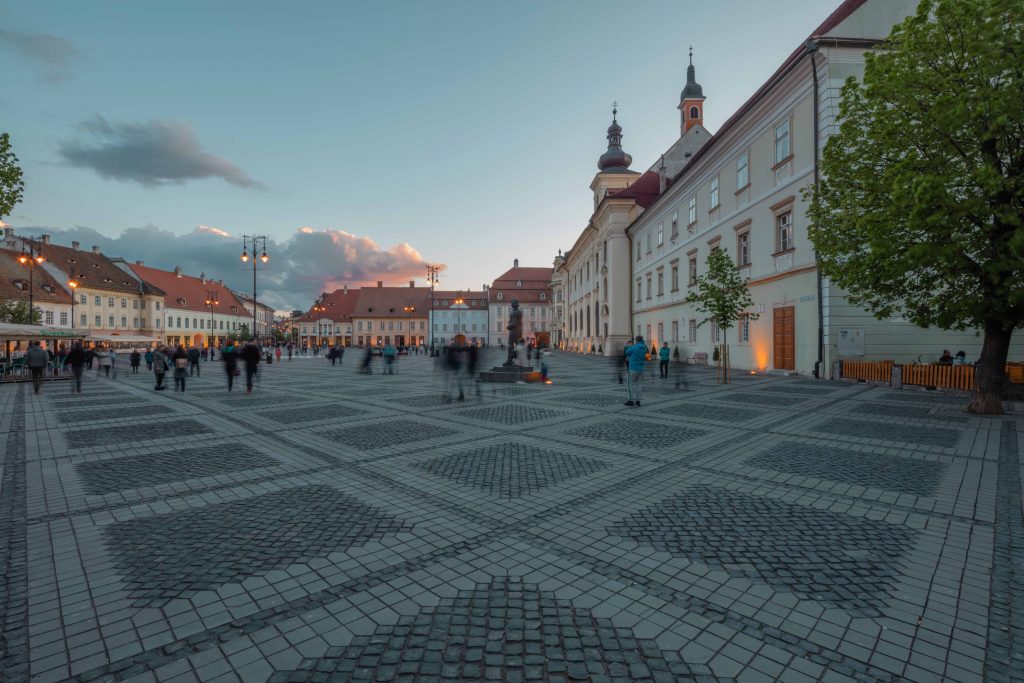 WHERE TO STAY
Hotel Am Ring, in the heart of the old town, with comfortable interior and cozy rooms that look out to the main square.
THINGS TO REMEMBER
The local currency is RON or lei. Make sure you have cash with you especially if you're going out of the city.
We had no issue with the language as most people speak English.
Rent a car if you're exploring more than just the main cities. Check if you need an international driving license.
Book accommodations in different locations rather than having to drive back to the same hotel.
Parking spaces in the main cities are easy to find. Some require an overnight fee of 10 RON like in Sibiu, Brasov, and Sighisoara.
The food in Romania is mouthwatering; just keep in mind you're in for a lot of meat.
The weather in April was a bit chilly, with rain on some days. So, make sure you pack a light, waterproof jacket at all times.
Overall, Romania is a cheap country. Lunch for 2 with a variety of platters, for example, cost us 100 RON. Accommodations were affordable; we spent a maximum of 180 RON per night.
Our favorite 2019 destination was Romania. A country of cultural and natural wonders, it has it all: from landscapes and adventures, to art and history. It all depends on where you go through the country.
Towns that take you through time, breathtaking nature and views, villages that still hold their century long traditions; Romania will sure make you fall in love every step of the way.
Like this post? Pin it or share it!