Heaven on Earth.
That's the only way to put it.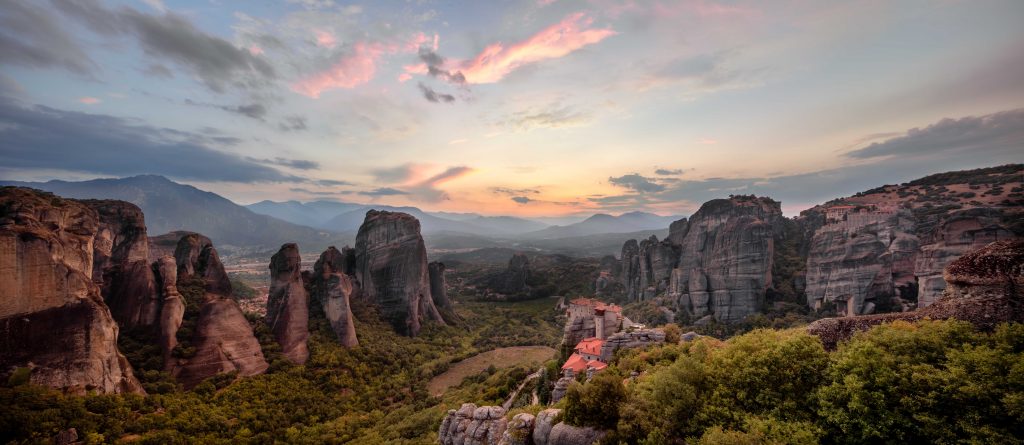 It doesn't matter if you're a religious person or not, but Meteora has a way of captivating you. There you are, standing at the edge of the rocks, wind against your face, and you're in awe of the natural splendor at your sight. In Meteora, a landscape so grand it feels out of this world: vertical monoliths shooting to the sky and monuments sitting so discretely on top, they are now part of nature's own landscape.
Actually, Meteora (meteoros, in Greek) means 'suspended in the air' & 'in the heavens above,' and from where you are standing, you can see how clearly this is demonstrated in the view before you.
You stand in admiration, transported back a thousand years to when monks first climbed these rocky pillars and settled in their caves. You think back to the first monks who, with only ropes, climbed atop to build their monasteries; you think back to their conviction and commitment of carrying each stone that forms the six monasteries you can visit today. You think back to how serene it would have been to stay here, watching the sun rise behind these monoliths and set in the town underneath. You think back to how crazy it would have been for someone to decide "I'm going to live up here."
And you're still standing there, thinking how grand our world is, and how little you must be in front of the landscape that is Meteora.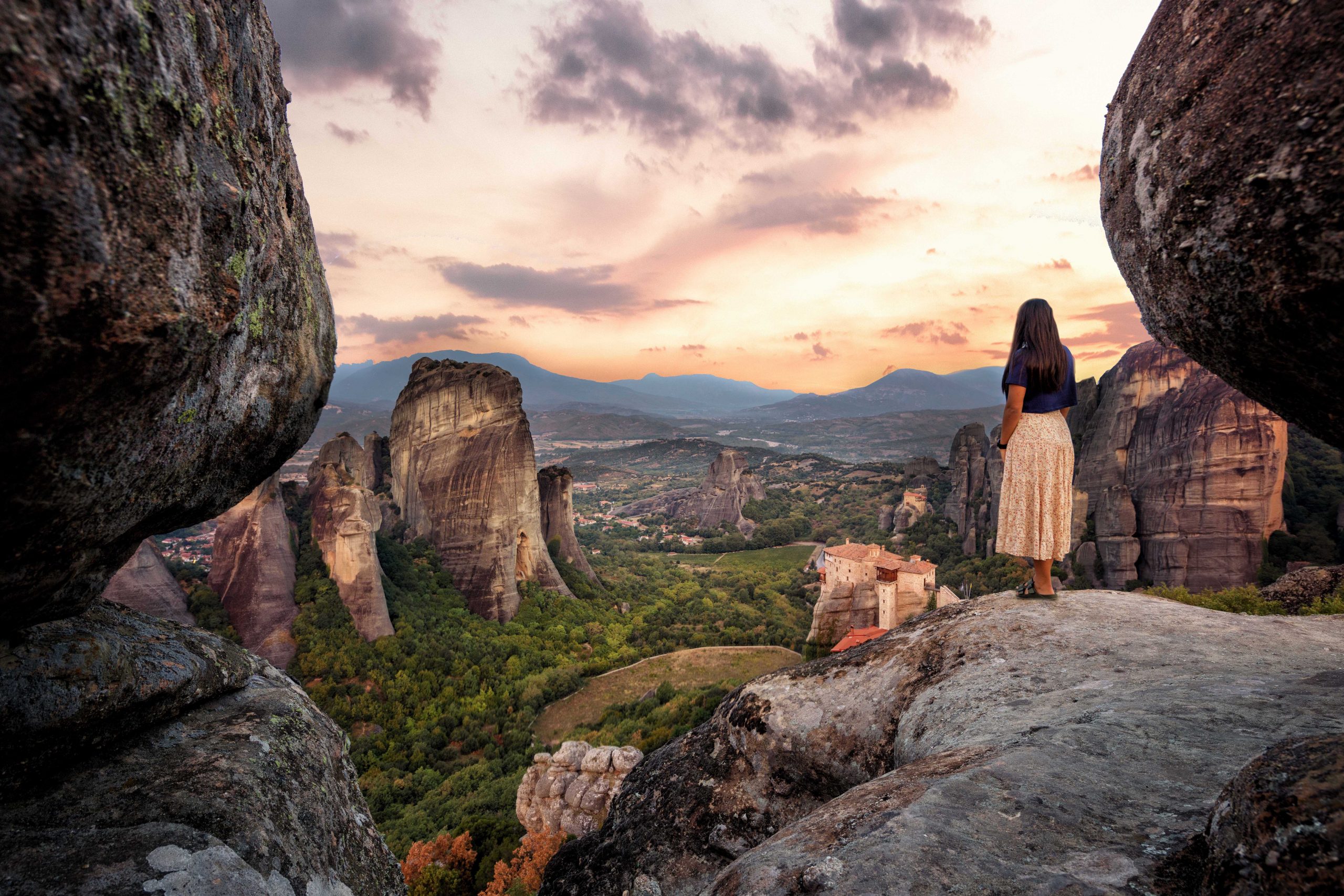 Obviously, Meteora is now a favorite for us. We've been wanting to visit for a while and found it to be a perfect time to do so this September, before our island hopping adventure began.
Yes, Greece is popular for its islands and clear, blue waters, but definitely make your way up North to check out this UNESCO site.
We spent 2 nights and 3 days exploring Meteora, waking up early to catch the beautiful sunrise, visiting each monastery at our own pace, sitting on the rocks at the end of the day to watch the sunset, even celebrating my birthday with awesome views of the monoliths… So, we do recommend at least 2 days here to truly enjoy the sites.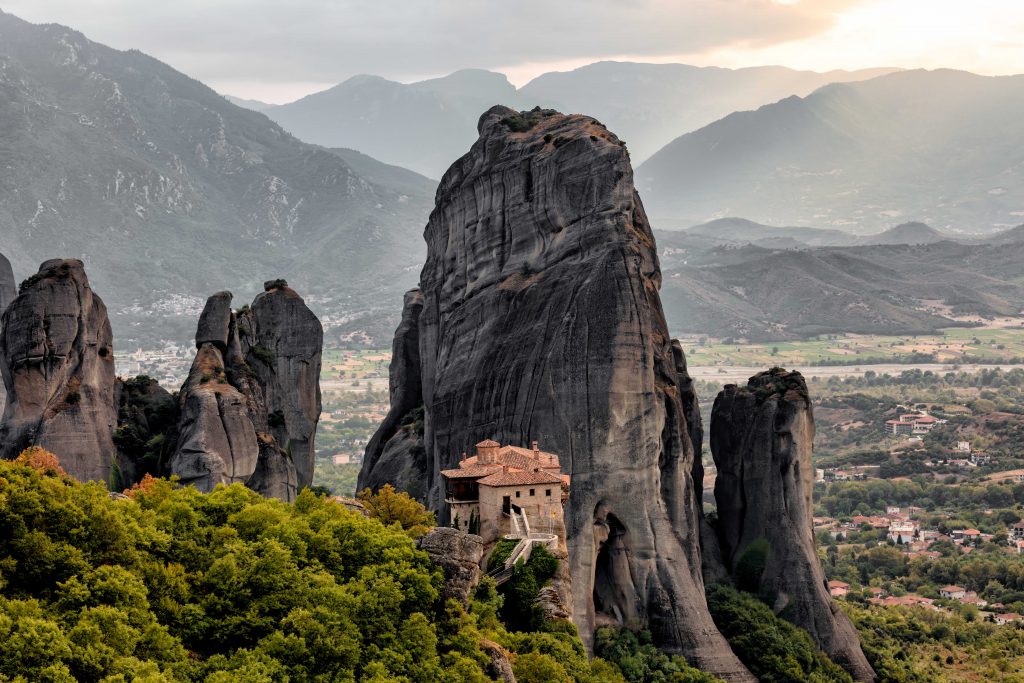 Know Before You Go
Best Time to Visit Meteora.
It is recommended to visit in Spring from March to May or Autumn from September to November. Summer time tends to be hot & crowded but manageable if you start your day early to avoid the buses. During winter, most restaurants and hotels in Kalambaka and Kastraki close their doors, but I have seen photos of Meteora covered in snow, and it is absolutely beautiful.
Entrance to each monastery is 3€ / person.
So if you plan on visiting all 6, you'll be spending 18€ in total.
Have cash with you.
Although restaurants and hotels accept credit cards, cash is still more common – especially at the monasteries.
Dress Code.
Meteora monasteries have a strict dress code, and always keep in mind that these are places of worship. Women have to wear long skirts; it's not enough to have your knees covered so no shorts, and even no pants. But skirts are always available at the entrances in case you need one. Men have to wear pants, although we saw many in shorts.
For the Game of Thrones fans.
Meteora inspired the background scenes for the Eyrie of the Vale, especially shown when Tyrion was being held captive. (shown below)
History of Meteora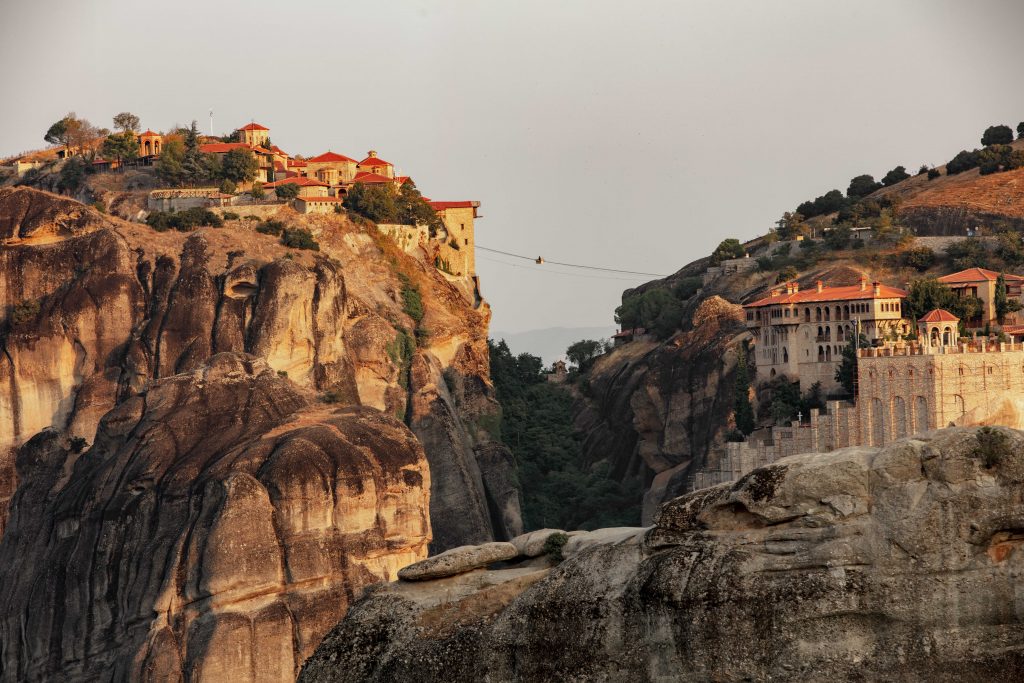 As early as the 9th century, hermit monks, needing to escape life and to find a peaceful place where they could contemplate, first climbed these high pillars and set homes inside the caves of these rocks. And after four centuries of complete isolation, a monastic community was created and with it, the first monastery, today called 'The Grand Meteoron.'
The inaccessibility of the place was ideal for monks who sought refuge in the face of increasing Turkish attacks. More monasteries were built up until the 16th century and, in total, they had become 24.
Obviously, logistics and construction were a nightmare. The only way to carry the building material was through ropes, but monks managed to build scaffolding and later replaced them with baskets that they pulled to the top. At the beginning of the 20th century, most monasteries had stairs carved into the rocks, which made access easier and which opened Meteora to the world. During World War II, the monasteries were heavily bombed and raided, and many artifacts were stolen.
Today, only 6 of the original 24 monasteries are still up and running – with 4 inhabited by monks and 2 by nuns. Primarily touristic, the monasteries offer a glimpse of what the daily lives of monks was about.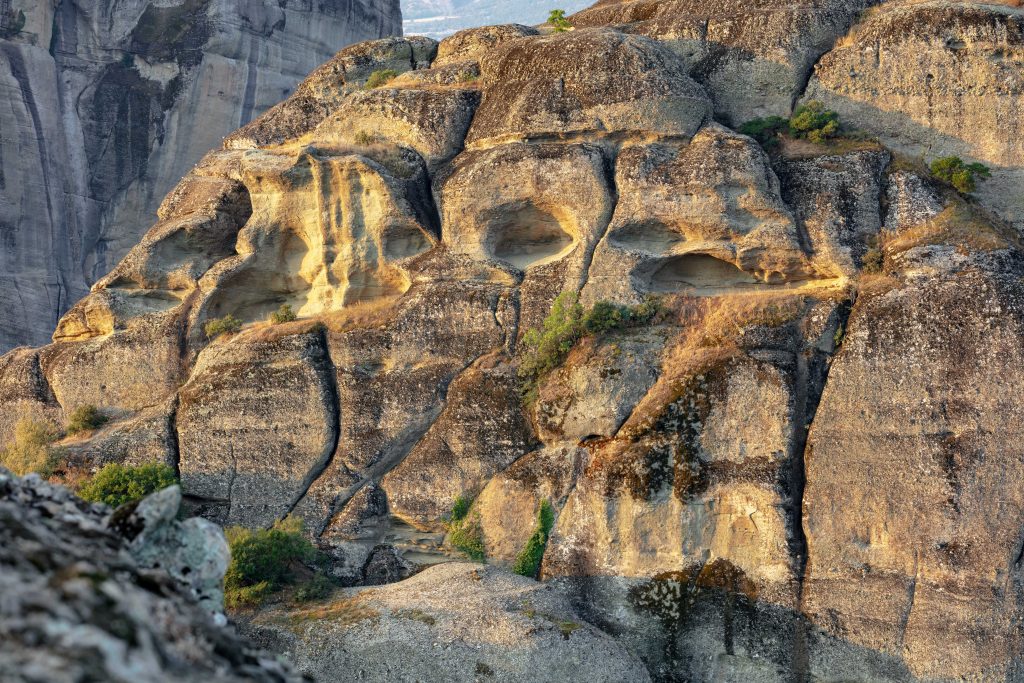 The Monasteries of Meteora
The most impressive things to see while visiting the monasteries are actually the views from each one. I guess monks really do know where to build their monuments 😉
N.B. Opening hours of monasteries vary from Summer to Winter, and some are closed on certain weekdays. So, make sure you check out the visiting hours of the monasteries.
The Grand Meteoron Monastery (1300s)
The grandest and oldest of the monasteries, it was the first founded. The main cathedral in the central courtyard is a must-see, beautifully embellished and decorated. Walk through the museum and see historical paintings and religious relics. Then, make your way outside and enjoy the many views around its courtyards.
Varlaam Monastery (1541)
It is the second largest, and I found it to be the nicest of all monasteries. You can find many old buildings like a kitchen & a hospital and even a well-preserved large oak barrel for water storage.
Roussanou Monastery (1550s)
It is literally situated on top of a pillar and is accessible by a series of bridges and steps. Today, it is a nunnery of 13 nuns and dedicated to St. Barbara.
St. Stephen's Monastery (1500s)
The easiest to access by a short bridge and no stairs, St. Stephen's is the most crowded. It also serves as a nunnery with amazing views towards the valley and mountains.
Holy Trinity Monastery (1475)
That was actually my favorite, although it was the hardest to reach with 140 steps and a long way to get there from the road. But the views on top are worth the climb with panoramas to the town of Kalambaka and the monasteries afar.
St. Nikolaos' Monastery (1500s)
The first monastery you pass by in Meteora, the smallest but the steepest. We enjoyed watching people rock climb on the boulder across it.
Vantage Points in Meteora
Meteora is, hands down, THE ultimate photography destination. Wherever you look, you are amazed by the views around you. But, a few lookout points stood out for us.
Observation Deck 1 (pinned on Google Maps)
Observation Deck 2 (pinned on Google Maps)
Lookout point on the way to the Observation Decks
Past Roussanou Monastery
Varlaam Monastery Parking Lot
Photography tip: Sunrises and sunsets offer the most amazing views of Meteora. The light is just perfect, and locations are relatively not crowded. Observation decks 1 and 2 are the most popular, but we also enjoyed the sunsets/sunrises at two other locations.
Some lookout points are not pinned down on Google Maps, so you can always contact me for directions.
How To Get To Meteora
Most commonly, tourists make it to Meteora from Athens or Thessaloniki. Thessaloniki is closer to Meteora, but we had landed the night before in Athens and took the train first thing in the morning. Note that when you search for train tickets, you will have to choose Kalambaka (one of the towns adjacent to Meteora) as the station.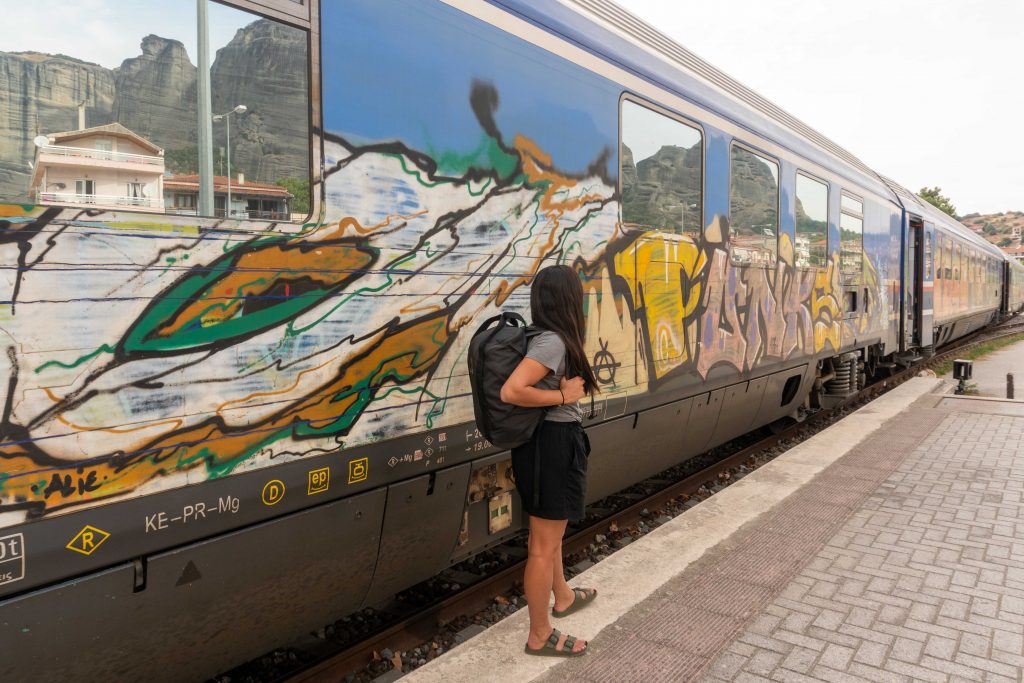 – By train: We took the 884 train from Larissa Station in Athens to Kalambaka. The train usually leaves at 7:20 am and takes you on a 4 hour ride through central Greece to reach the only station that gives you way to Meteora. Tickets cost 18.30€ / person one-way, so 36.60 € / person in total.
There are also other options for train rides to choose from here.
– By bus: You could also opt for the bus ride from Athens to Kalambaka, but this takes around 5:30 hours to reach with a stop and bus change.
– Other options include driving to Meteora or taking a day tour.
How to Get Around in Meteora
Once we got to Kalambaka, we rented a car from the nearby Hobby Shop. Although we hadn't reserved before hand (yes, everything has to be on the spot when you're traveling with us), we were lucky enough to find one available. It only cost us 40 € / day with no deposit – a very good deal compared to other rental shops we checked out.
The best way to check out the monasteries and the viewpoints is by car, on your own time and comfort. It's only a short drive from the towns, and parking spots are available at all spots. And since we always enjoy catching the sunrise and watching the sunset, a car was extremely practical as buses run on certain times during the day.
Other options for transportation include taxis, local buses, or organized tours.
Where To Stay
You can't stay in Meteora, and there are only two options: the towns of Kalambaka and Kastraki – right next to Meteora. Although Kastraki is closer to the sites, we stayed in Kalambaka, close to restaurants and cafes.
We spent two nights at Hotel Meteora, at the edge of the town and right under the great monoliths. Our room had an amazing view to Meteora, so we woke up and slept to the rocks. The monasteries were only a 10-minute drive away, and the restaurants were a few walking minutes away.
Breakfast was amazing too, with great variety.
Bonus: CATS!
Click here to book a stay at Hotel Meteora in Kalambaka or here to see other accommodation options for your visit.
Where To Eat
Dining options are somehow limited in Kalambaka and Kastraki with almost only Greek food served at restaurants. And, that's not even a bad thing! There was one particular restaurant we enjoyed – so much that we ate here the three days we were in town.
The family-run Meteora Restaurant
We also enjoyed desserts at the pastry shop nearby,
Kyvelia Pampiris
Have you been to Meteora? Which part of Greece would you like to visit next? Let me know in the comments!
Like this post? Pin it or share it!