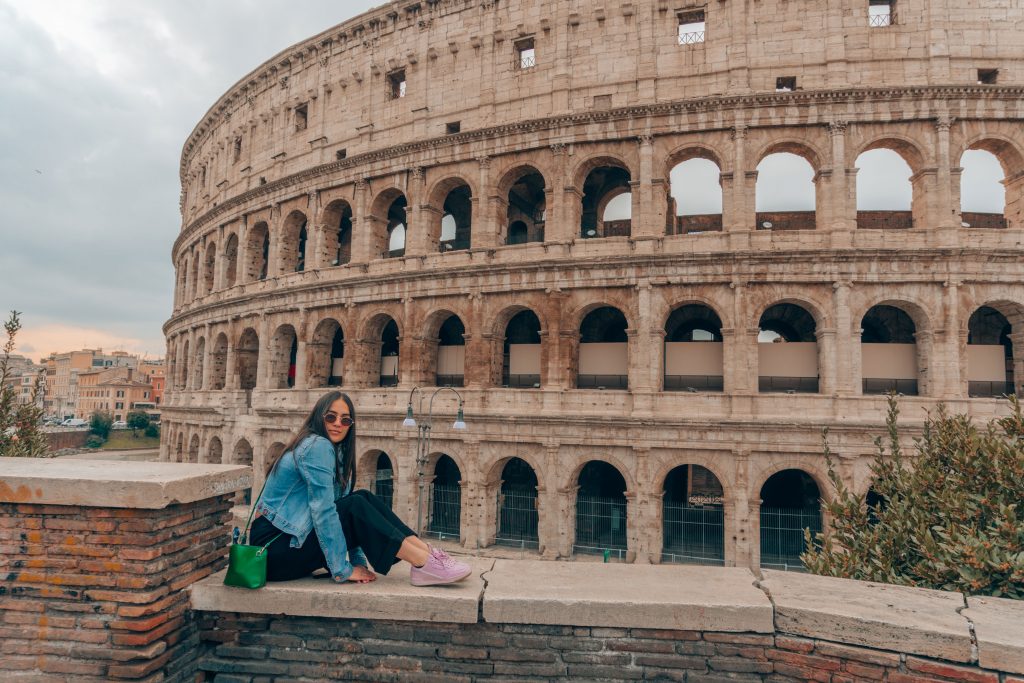 Ciao! For those of you who know me, you know I've been crazy about Rome for a long time now. I have learned everything there is to know about the eternal city – I've studied the language, the people, the culture, the history, the architecture… I've fell in love with Rome even when I have never visited.
So when the people at Sun Holiday Tours knew of my plan to – finally – visit the city, they flew me there, and I got to invite my mom for Mother's Day (which falls on March 21 in Lebanon). Sun Holiday Tours took care of everything for me: flight details, which area to stay in, what not to miss… It was the first time someone other than me took care of the trip details and what a relief that was.
Rome turned out to be everything I wished for and more; there was just something about the city – maybe it was the history & the many archaeological sites I got to visit. Maybe it was the culture, or the people – or was it the food? I pretty much think that was it – all the pizzas & pastas and wine & aperol. 😉
I have heard that, like me, Rome is on top of many of your travel lists. So here's a breakdown of my 5 day trip to Rome – what to see and do, Rome's main attractions, day trips out of Rome, Rome food, and best Gelato & coffee…
Rome's Main Attractions
Rome is full of beautiful sites, and it would take more than one visit to be able to see everything the city has to offer. So, I compiled a list of Rome's main attractions I got to see in less than a week.
Side Note: The secret to enjoying the sites with little to no crowds is waking up early.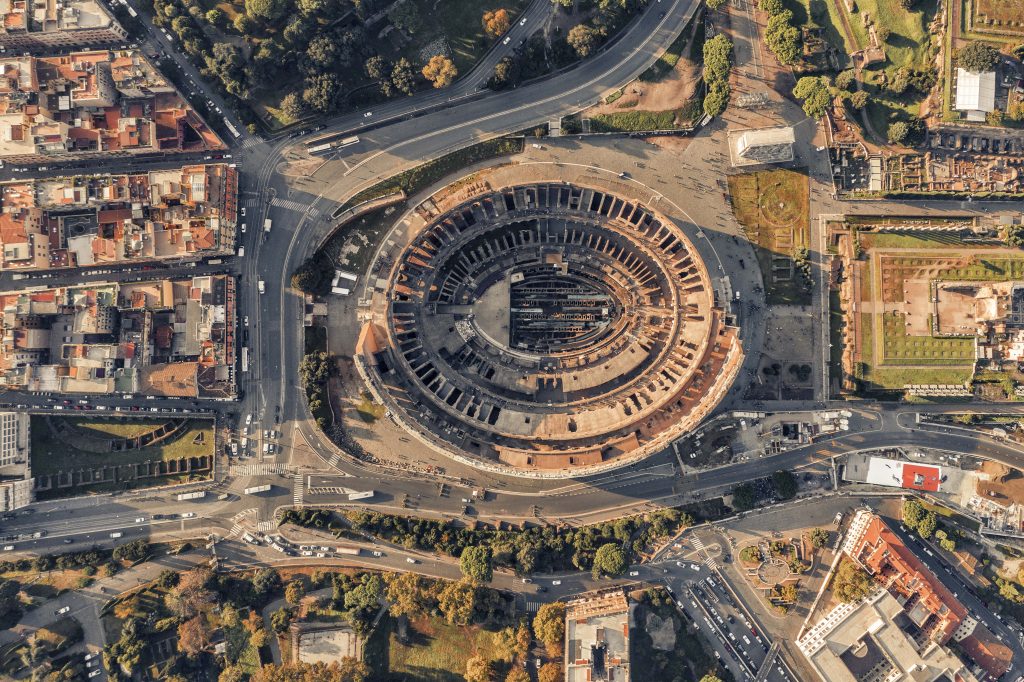 Palatine Hill
Palatine Hill was part of the tour we booked which included visiting the Colosseum, Palatine Hill, and the Roman Forum. We met our guide, Nicolo, and we headed out to the Palatine Hill. Here, we walked through remains of what was once luxurious palaces and their gardens.
A bit of History – Palatine Hill The Palatine Hill is one of Rome's seven hills, the hills where the city was built. Its convenient location between the Roman Forum and Circo Maximus made it the spot to live and build your palace. But even before that, Palatine Hill was considered to be a major spot in Ancient Rome. It is said to be the founding place of Rome. Legend has it, Palatine Hill was where twins Romulus (the first king of Rome) and Remus were found by the she-wolf who later raised them. And as they grew up and as brothers do, they sometimes fought to an extent where Romulus killed his brother, and thus built his city on Palatine Hill and became the first king of Rome.
Roman Forum
We continued our tour to the Roman Forum and walked along its old pebbled roads. The Forum was Rome's political, cultural, and religious center with different temples, monuments, and buildings. It was here that citizens as well as slaves crossed paths, that decisions were made, that public speeches and elections took place…
Colosseum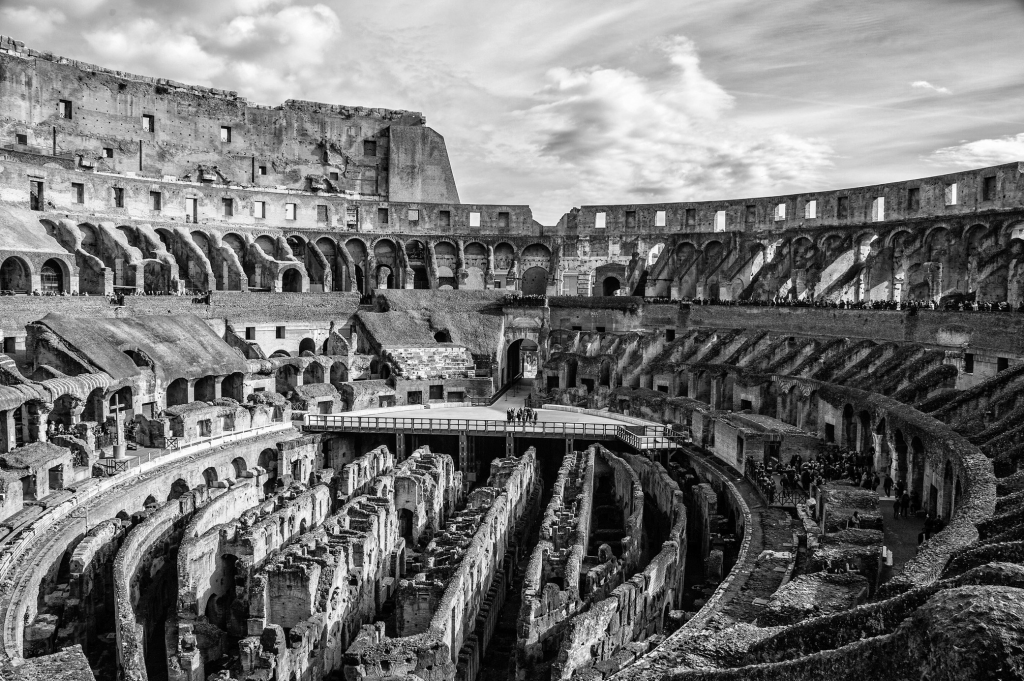 We set our tour towards the Flavian Amphitheater, better known as the Colosseum. A visit here is a MUST when visiting Rome. Ever since I took the first Roman Architecture class, I wanted to visit the Colosseum. You can not fully appreciate its grandeur unless you visit. Since we booked the underground tour, we got to see restricted parts of the Colosseum, where we walked through tunnels, narrow corridors and got to see the complex functional mechanisms unknown to the public. It was here where slaves moved, where wild animals were kept, and where gladiators awaited their "moments of glory." Our tour also gave us access to the Arena floor where the fights took place.
A bit of History – Colosseum I could go on and on about the rich history of the Colosseum, but I will just leave you with a few facts to get you interested in visiting.
The Colosseum is the largest Roman amphitheater in the world. It was able to accommodate 50,000-65,000 spectators and was THE place for gladiator battles and animal shows. The Colosseum survived several earthquakes, flooding (naval battles even took place here), and even dismantling; but still stands today. Seating was according to rank, with special seats for the emperor in the center, wealthy citizens at the bottom, and slaves at the top. The Colosseum has been standing since 80AD with 40 million tourists visiting the site every year.
"Rome will exist as long as the Colosseum does; when the Colosseum falls, so will Rome; when Rome falls, so will the world."
Tips before visiting
Entrance to both the Palatine Hill and Roman Forum is included in the ticket for the Colosseum. Tickets are valid for 48 hours after your first entrance; but keep in mind that Palatine Hill and Roman Forum should be done together.
Wear comfortable shoes as a lot of walking is required.
Make sure you have a water bottle on you – you can always refill it from the free water fountains available on the sites.
Book your ticket online to avoid queuing at the ticket booths, or purchase ticket from the Palatine Hill rather than Colosseum for fewer crowds.
We booked the Colosseum Restricted Areas Tour: Access to Underground which took almost 4 hours to check all sites. I definitely recommend taking a guided tour if you want to know more about the history of Rome.
The tour usually starts at the Colosseum and ends at the other two sites, but our guide wanted to give us the flexibility to stay inside the Colosseum as long as we wanted.
The difference between the Underground ticket and a standard ticket is that with the standard one, you are allowed access to only the first and second tier. If you book the underground ticket, you have access to both tiers AND the arena floor and underground. You can also book the Belvedere tour which gives you access to the third, fourth, and fifth tiers.
Trevi Fountain
We got to the Trevi Fountain at 6:30am and only encountered a few people who were also here early to escape the crowds. We heard nothing but the sound of rushing water, and we were in awe of how huge the fountain actually is.
I tossed a few coins in the fountain because, as they say, toss a coin in the Trevi, and you are bound to return to Rome. Fingers crossed!
Actually, an estimated 3,000 euros are thrown in the fountain each day. Talk about wish making!
Villa Borghese Gardens
The gardens at Villa Borghese are THE place to go to if you want to escape the business of central Rome. At the time of our visit, the Chinese president was touring the galleries at the Villa, and it was closed to the public. So instead, we took a walk through its gardens and rented a row boat (for 3€/person). It took both me and my sister a good 10 minutes to get the hang of rowing, but it worked out fine after all!
The Spanish Steps
Overlooking the Piazza di Spagna are the famous Spanish Steps, 138 steps to be exact. We also visited them early morning when only a few people were there. I heard the view from the top of the steps at sunset is one of the most beautiful to witness. You will also enjoy another beautiful Roman fountain "the Barcaccia" which sits at the center of the piazza.
Piazza Navona
Probably the most elegant of all of Rome's squares, Piazza Navona was actually built over the ruins of an ancient stadium; which is why it has its oval shape. Today, it is lined with shops & restaurant and features three main fountains; the most famous being Bernini's Fountain of the Four Rivers at its center.
Piazza Navona is the perfect place for grabbing a quick lunch and enjoying the large crowds and street performers.
The Pantheon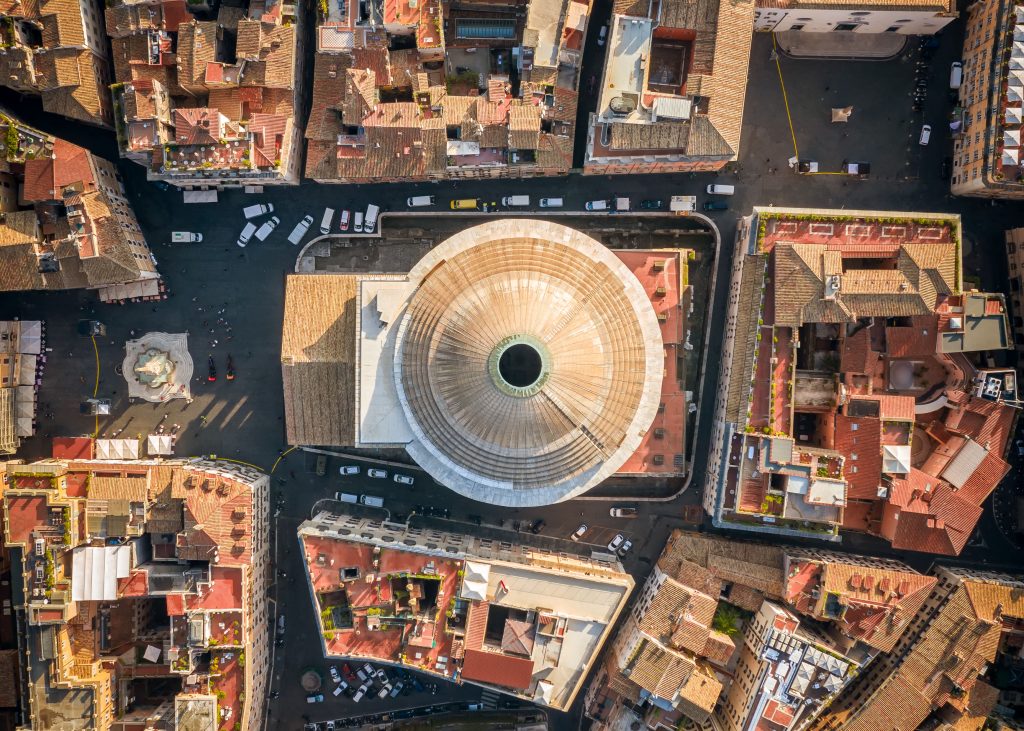 First a Roman temple and now a church, the Pantheon is the best preserved ancient structure in Rome. It is most famous for its circular dome with an oculus – a reference to the heavens and the Gods. In fact, the Pantheon's dome is the largest unreinforced dome ever built. And to think that this was 2000 years ago!
Make sure you check out the Pantheon on sunny days between 11 am and 1 pm to catch the sun as it enters through the oculus. We actually went inside on our last day while it rained outside, and it was also raining inside. But, even the floor is sloped so rain can be drained out through well-hidden holes.
Another sight not to miss here is Piazza della Rotunda with its fountain at the center, lively cafes along its sides, busy streets, and the Pantheon in the background.
Piazza del Popolo
One of the largest squares in Rome, Piazza del Popolo is most famous for its almost symmetrical shape with the obelisk at its center. Its grand size makes it a perfect venue for concerts and events during the summer.
Castel Sant'Angelo
Lying on the banks of the Tiber River, Castel Sant'Angelo was built by emperor Hadrian as a mausoleum for himself and his family. The fortress was later used by the popes due to its closeness to the Vatican City – actually, it includes a secret passage to the Vatican. Today, it is a museum.
Don't miss the beautiful Ponte Sant'Angelo (which leads to the castle) with its ten angel statues.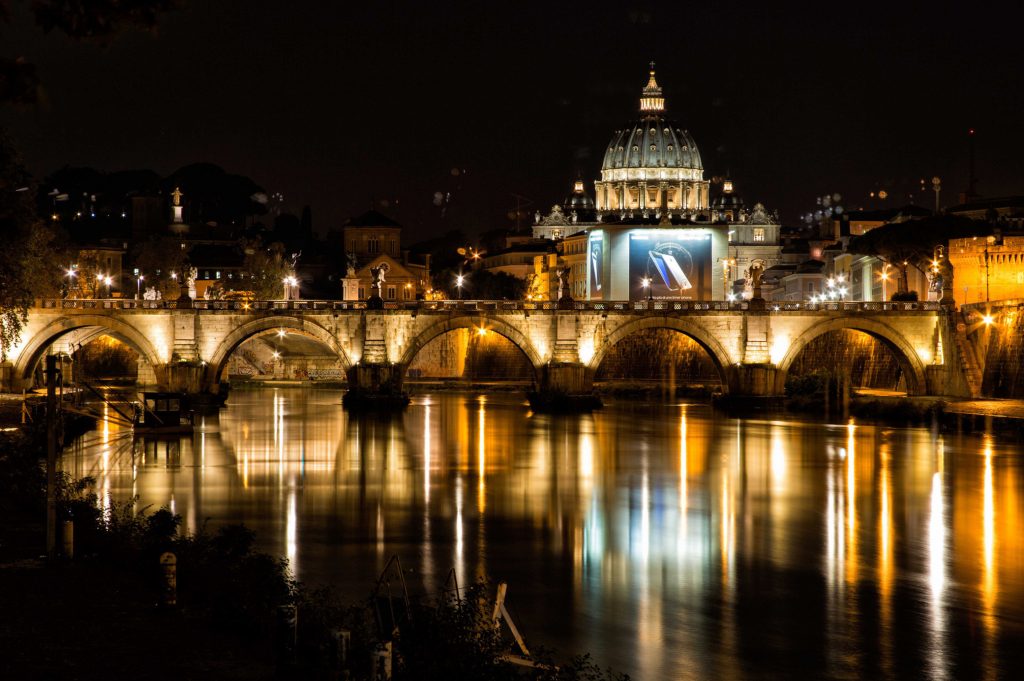 Day Trips Out of Rome
Vatican City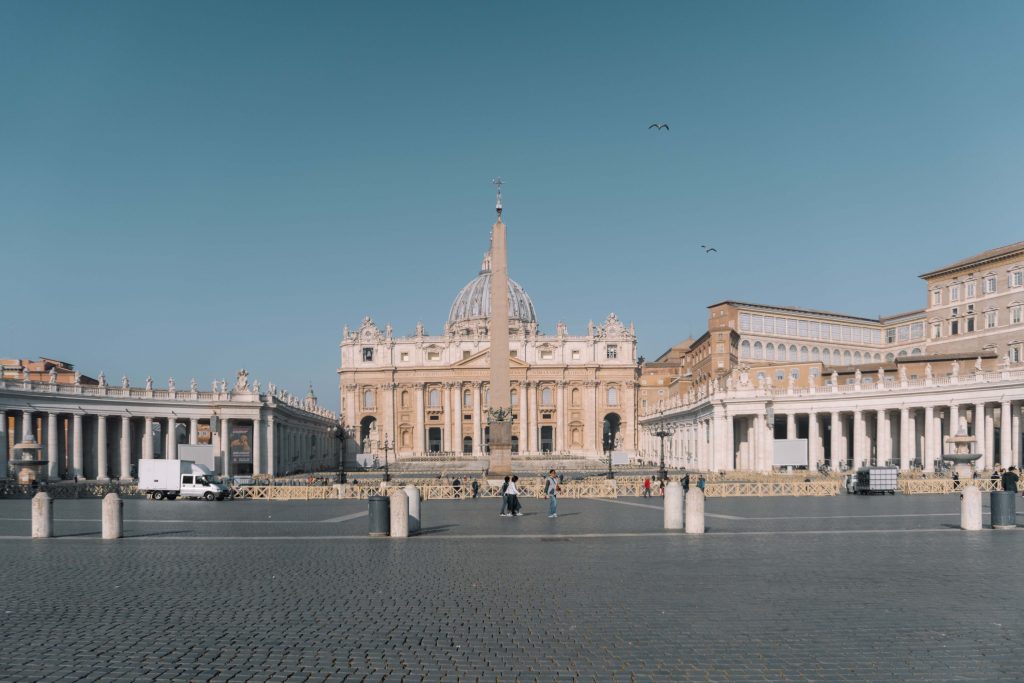 No visit to Rome is complete without visiting the Vatican City. This country within a country is the smallest state in the world, but it holds great history and architecture. We spent our full day here, checking out the Vatican Museums, St. Peter's Square, and the magnificent St. Peter's Basilica.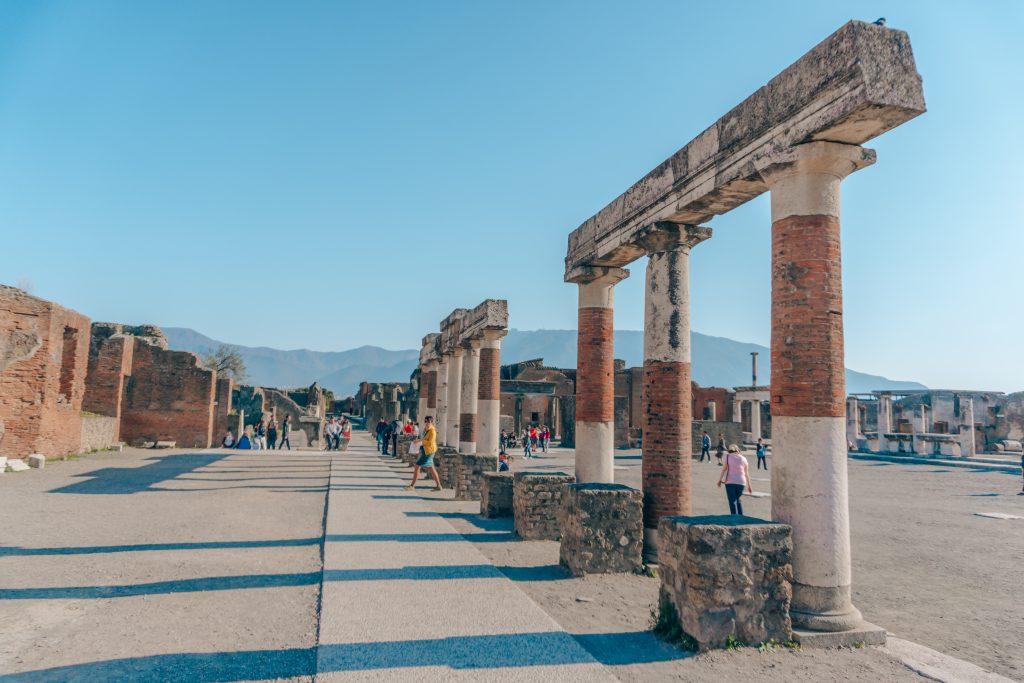 Ever since I first heard about the story of Pompeii during my 9th grade English class in school, I've been wanting to visit. The story of how a volcano erupted and covered a whole town in ashes, thus preserving it, was beyond my imagination. So, Pompeii was on top of my things to do while in Rome. An UNESCO World Heritage Site, Pompeii is a perfect archaeological site for anyone interested in history or just curious to see how a town covered in ashes for years is still preserved. Read more about what to see, how to get there, and what not to miss here.
On The Menu
Rome is a foodie's heaven. From extensive cuisine, to casual trattorias and street pizzas, to all you can have gelato and coffee, you can never go wrong with Roman food. Here are some of the dishes we had the chance to try:
Dishes To Try
Carbonara Rome's most iconic pasta dish – creamy egg-based carbonara with parmigiano, black pepper, and pieces of guanciale (type of meat).
Pizza Romana Romans prefer their pizza with a thin, crispy base. Make sure you NEVER ask for ketchup sauce; unless you want the waiters to look at you funny. We tried the classic marguerita, pepperoni, and mushroom pizzas.
Cacio e Pepe I have never heard of this dish before my time in Rome. Cacio e pepe (cheese and black pepper) is one of the Roman's most famous dishes. Mix the two with pasta to create a simple, yet delicious plate.
Lasagna has always been a daily meal in Italian houses. You can mostly find it in real Roman restaurants.
Gelato
And now, on to, Gelato. You really can not visit Rome or even Italy, without trying their Gelato. It is incredibly famous here, and you can find a gelateria on every corner. We tried the Gelato twice, once at a coffee shop near the Pantheon, and the other time at Gelateria del Teatro. The place quickly became a favorite not just for the fresh gelato they make but also for the setting of the store, nestled on a quaint street on a corner. You can even watch how the gelato is made through their open kitchen via a large window front, and you can enjoy your gelato inside the gelateria or on the beautiful steps behind.
Coffee
Italians are pretty serious about their coffee, and you always enjoy a cup anywhere in the city – espresso, cappuccino, cafe latte.. We even tried the cafe correcto: espresso base with a shot of liquor. But there was one place in particular that stood out for me.
Antico Caffe Greco
Waiters in tuxedos greet you, and you walk past arched rooms to settle in red velvet couches and have your coffee served on marble-topped tables. Opened in 1760, Antico Caffe Greco is the oldest cafe/bar in Rome (and the second oldest in Italy). Just a few steps away from Piazza di Spagna, this coffee shop sits in between designer stores. One of the most authentic bars, it welcomed artists and intellectuals such as Mark Twain and Casanova.
You will enjoy your coffee, sitting in between statues, paintings, and drawings of all those who passed through. But bear in mind, all this antiquity and authenticity comes with a high price, 9 euro/coffee to be exact.
My first trip to Rome is definitely one for the books. I had put a lot of expectations for this city, and not once was I disappointed. I have just gotten back and can't wait to go again to explore more of what Rome has to offer.
Is Rome on your bucket list? Have you been there already? Let me know in the comments!
Like this post? Pin it or share it!