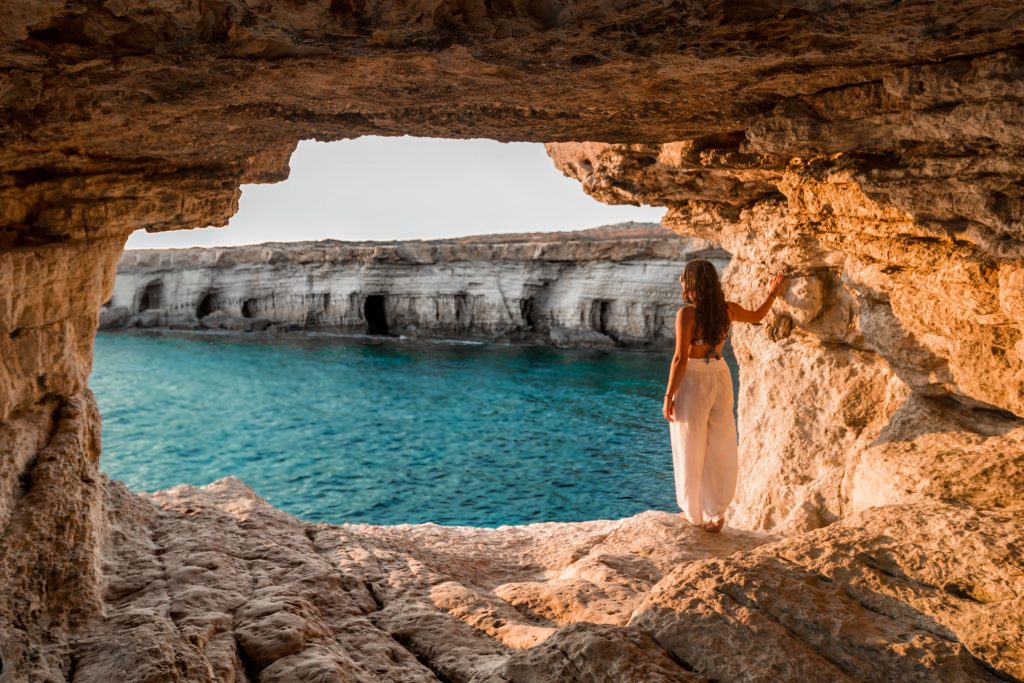 Cyprus was the last country to ever be on my go-to list. Maybe it was because all I ever knew about it was Ayia Napa and its night life; and I never really did care about that… But after we traveled there in September 2017 and spent six full days, I honestly can't wait to go back.
Cyprus was much more than beaches and nightlife. It was about nature and secret spots, people and their hospitality, culture and history. Somehow, it reminded me of Lebanon.
Cyprus is a famous spot for Lebanese; just 45 mins by plane and you're there. So, if you're planning on getting away for a few days, if you're attending a friend's wedding this summer, or if you just want to discover this small island, make sure you read along.
Ayia Napa
I'm definitely including Ayia Napa on the list of things to do in Cyprus because no visit is complete if you don't enjoy at least a few days here.
Nissi Beach
We spent our first day at the famous sandy Nissi beach, which stretches out for a whole 500 meters and where the water is crystal clear. The beach was filled with tourists and locals, where music played loudly, and different water activities were enjoyed. We decided to go for pedal boating. We spent the whole day here, just laying on the beach and enjoying the sun. We even waited for the sun to set behind the mountains (it was a new one for me because back home the sun always sets at sea).
Cape Grecko
During my research, Cape Grecko had instantly become my favorite spot to see in Cyprus. During the day, we escaped the crowds at Nissi beach and decided to go to Konnos Bay, a beautiful, secluded, and calm beach. At sunset, we left to check out Cape Grecko, although I had really wanted to hike the different trails this national park had to offer. Well, maybe it's time for another trip to Cyprus!
I instantly fell in love with the many sea caves you can find here. It was a natural haven indeed, with hidden spots and rocky cliffs. As the sun set, the place quickly became crowded with people cliff jumping, and so I joined.
Fig Tree Bay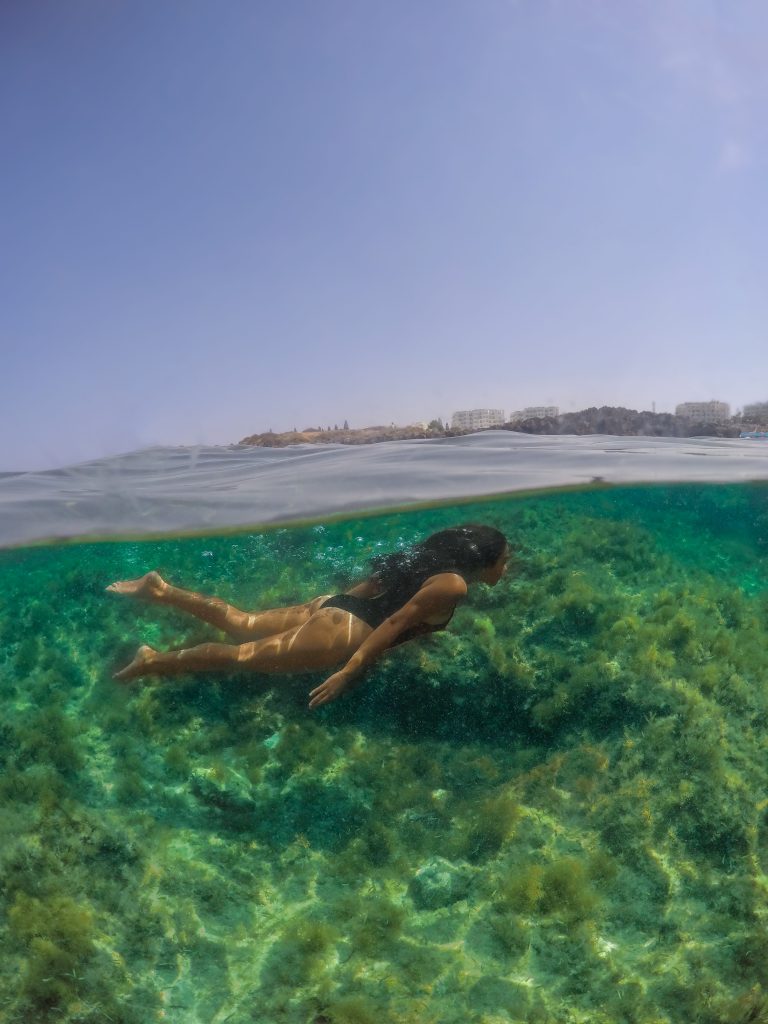 Another beach to enjoy was Fig Tree Bay in Protaras. Away from all the crowds, it was a calm place where we enjoyed the cool water and swam to a small, distant islet.
Love Bridge
At sunset, we visited Love Bridge, which is also part of the Cape Grecko national park. Perfect views welcomed us as well as people cliff jumping and men proposing to their loves ones 🙂 . Apparently, the place is famous for proposals, couple shoots, and even wedding ceremonies…
Limassol
After 3 full days in Ayia Napa, it was time to discover the other places in Cyprus. Because of our tight schedule, we only managed to visit Limassol and Paphos. We stopped in Limassol for lunch and walked around its old town, & through its markets.
Paphos
Aphrodite's Rock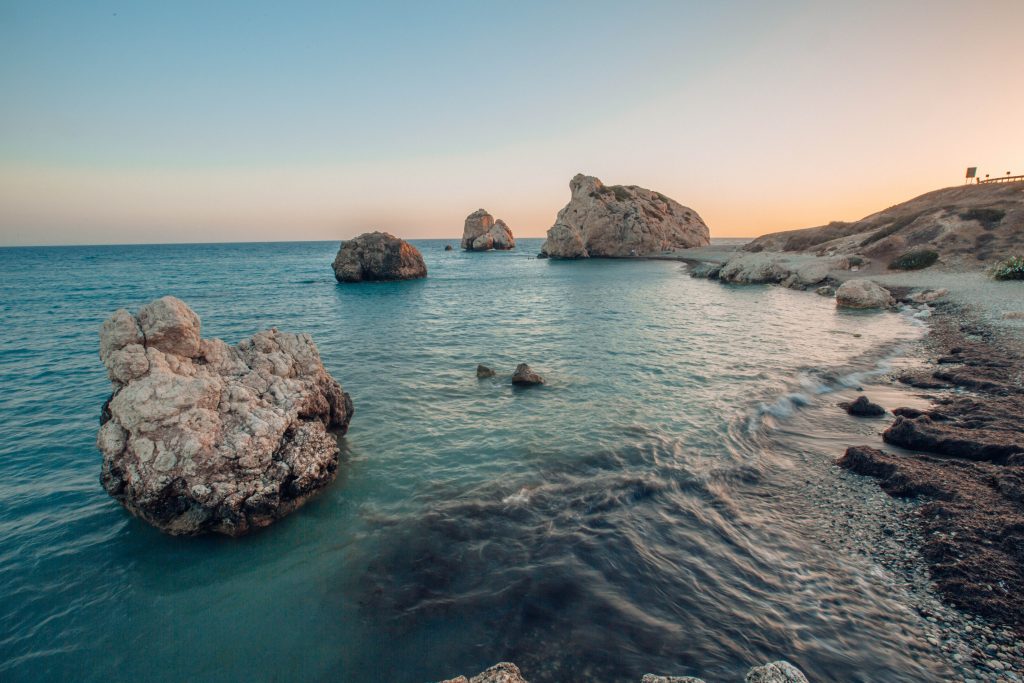 Legend has it that Petra tou Romiou (or Aphrodite's Rock) is the birthplace of Aphrodite, the Greek Goddess of Love and Beauty. Near the rock is the beach of Aphrodite, a pebbled beach that looks like a small bay. We arrived here just before sunset where we enjoyed a quick swim in its waters. It is said that the waters of Aphrodite bring eternal youth, beauty, and true love! 😉
Avakas Gorge
To date, Avakas Gorge is one of my top hiking places. Located 16 km from Paphos, the gorge was created by a flowing stream for thousands of years thus creating walls up to 30 meters high. The trail is different all along the way: sometimes it widens, and at times, you can just make it through. The hike is a fun one and is just around an hour long. Make sure you visit the gorge during summer because the river water level rises during the rainy season.
Adonis Baths
Tucked away in between rocks and trees, Adonis Baths includes small lakes and waterfalls. The baths are built around a 400-year-old mill which you pass through to get to the main spot. We had arrived early in the morning, so it was just us and a couple of tourists; a fact that made our visit even more interesting. We had the chance to take all the photos we need without anyone in the water with us. The water was very refreshing – and a bit cold, but you directly get used to it.
I had read a lot of contradicting views about the baths, prior to my arrival: some concerning the poor state of the road, others about the baths being a rip-off and not worth it. But for me, Adonis Baths was one of the highlights of my trip to Cyprus.
Troodos Mountains
Omodos Village
Just at the center of the island, you can find the Troodos Mountain range. It includes around 30 different villages, many mountain resorts, churches, valleys, and hiking trails. We had an afternoon left, so we chose to visit the village of Omodos. The traditional village is mostly known for its wine, handmade knit lacing, and local bread. We enjoyed our time walking through this cobble-stoned town, along its traditional houses now turned into shops and wineries.
We enjoyed coffee and birthday treat for me 🙂 at George's Bakery & Cafe.
–
Writing this blog post gave me back so much beautiful memories from my trip to Cyprus, and it made me want to visit again to see the places I didn't have the chance to visit.
Have you been to Cyprus? What other places do you recommend? Let me know!
Like this post? Pin it or share it!