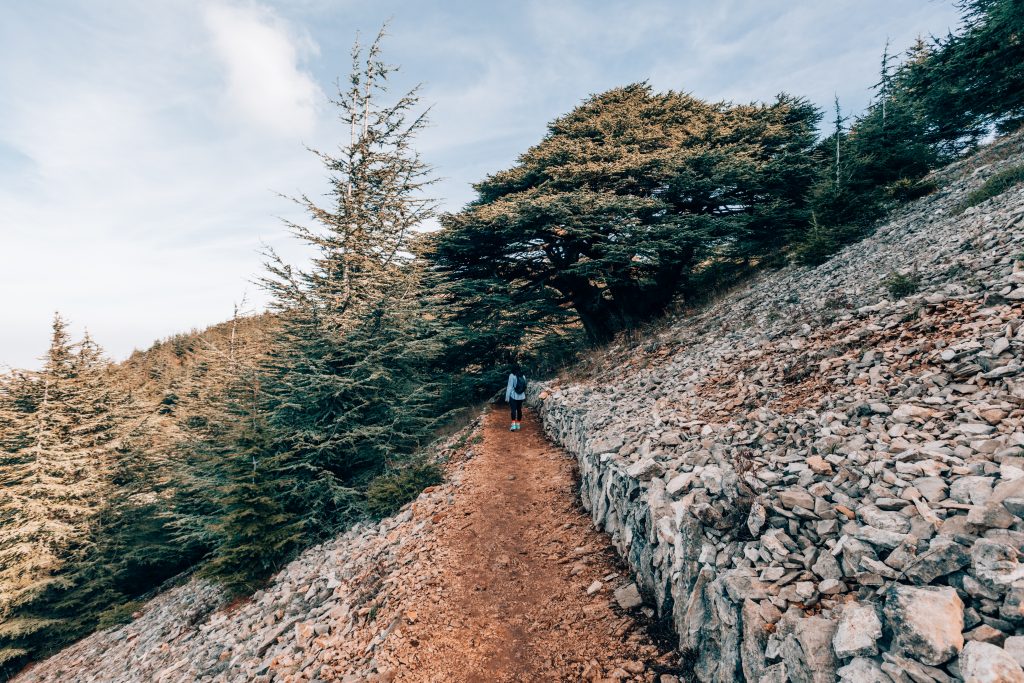 Last week, I ticked off the last Cedar Reserve in Lebanon from my list. Some, I have discovered recently, but others I have been going to ever since I was a little girl.
Here in Lebanon, the Cedars are still considered our most significant landmark. It's definitely our argument when we hear people say "Lebanon is a desert." We're pretty serious about them; so, if you ever feel like visiting 6 of them, you've come to the right place.
Cedars of God (Arz L Rabb)
The most famous, the Cedars of God are one the UNESCO World Heritage Sites. Located in Bcharreh al Arz, I have been to this reserve every time a family/friend visits from abroad. The Cedars are certainly a go-to touristic attraction.
Last year during winter, we visited the Cedars, and they were the most beautiful I've ever seen: covered in white. Just one week ago, I was at the reserve; snow was still shy, but it was still amazing to see.
Distance from Beirut: 115 km – 2h 30 mins / Altitude: 2000 m
Arz Jaj
The first time I visited these Cedars in Byblos was last year during Fall, and since then, I've been there around 5 times. They're a perfect getaway for just an afternoon hike – and, it's only an hour and a half drive from Beirut.
Only a 15 minute hike leads you to the forest, nestled in between huge masses of rock formations. These are another impressive site to see. There are just a few hundred cedar trees left, that are between 1200 and 2000 years old, and others just waiting to grow following reforestation initiatives.
Distance from Beirut: 61 km – 1h 25 mins / Altitude: 1220 m
Shouf Biosphere Reserve
The Shouf Biosphere Reserve is the largest Cedar forest in Lebanon. Enclosing three different cedar forests (Cedars of Barouk, Cedars of Maaser el Chouf, Cedars of Ain Zhalta), the Shouf Biosphere Reserve constitutes 25% of the remaining Cedars in Lebanon and has an area of 550 km2. You can visit all 3 reserves with the same entrance fee of 7,000 LBP.
The forest is a perfect place for a hike, with different hiking trails for all levels. During the summer, I hiked Arz Barouk with some family coming over from abroad and last month, we visited the Cedars of Maaser el Chouf and Ain Zhalta – both I have never been to before.
Arz el Barouk
The Barouk reserve includes one of the oldest Lebanese cedars and has many hiking trails. It also stretches to meet the cedars forests of Maaser el Chouf and Ain Zhalta.
Distance from Beirut: 60 km – 1h 20 mins / Altitude: 1000-1200 m
Arz Maaser el Chouf
We drove to the area the night before and stayed at one of the guest houses close to the reserve. We woke up at 5 am to catch the sunrise, but it turned out the reserve opens at 9am. So much for research!
So, we decided to go for breakfast until that time. We hiked through the forest in a loop for around 3 hours and enjoyed all the sceneries it presented us. This was one of my favorite hikes and I can't wait to explore more of it during winter time. Maybe snow-shoeing soon?
Distance from Beirut: 66 km – 1h 30 mins / Altitude: 1200-1950 m
Arz Ain Zhalta
We visited the Cedars of Ain Zhalta on the same day. Seeing as we were tired from the early wake up call and the previous hike, we decided to just walk around the area and rest within the vast Cedar trees. Highsam definitely enjoyed taking photos, and we flew our drone for more amazing views from above.
Distance from Beirut: 45 km – 1h 5 mins / Altitude: 950-1220 m
Arz Tannourine
Tannourine Cedar reserves protects one of the largest Cedar forests in Lebanon. It includes many trails that uncover the different views and sceneries of Lebanon.
I have visited this reserve on many occasions, as a little girl hiking with my family and just at the beginning of the year, hiking with friends. We took different trails and were able to walk through the various sceneries, and different mountainous and forest landscapes. You will never be disappointed – no matter what hiking trail you decide to walk.
Last weekend, we visited the Reserve once again, which was shyly covered in snow.
Distance from Beirut: 85 km – 1h 50 mins / Altitude: 1500 m
–
N.B. I'll be compiling another list of Cedar forests to go to and will be adding them here regularly, every time I visit one. Let me know if there is a specific one I should definitely go see in the comments!
Like this post? Pin it or share it!