When you hear of Dubai, you'd think of it as a luxury travel destination, and to some, it actually is; but here is how we spent a week in Dubai on a budget. We found it to be relatively affordable – and when you have friends who live there, you could just crash on their couch for your whole visit 😉 Thanks Rawad and Serge!
Highsam and I visited last February; the weather was relatively good: 26° C the highest, and at night, it would get a bit chilly and reach 16° C.
What To See and Do
Hatta, UAE
We escaped the hustle and bustle of Dubai and drove for 1:30 hours to get to Hatta Dam. Mountains and greenery were a totally different scenery from what we were accustomed to in Dubai. You can enjoy various water activities; we kayaked. (60 AED or $16.5)
Deira
An 'abra' takes you on a 1dhr ride to old Dubai, where the old souks are. Spend the day walking around the old spice and gold shops, and enjoy the many street wall arts you can find around the area. (1dhs or $0.5)
Burj Khalifa
As much as we wanted to check out the view from atop, we walked around the vicinity of Burj Khalifa and indulged in the beauty of the actual Burj. (0 AED)
Abu Dhabi
We drove to Abu Dhabi to check out the Louvre (60 AED or $16.5) and the Sheikh Zayed Mosque (0 AED). As an architect, both of these buildings were on top of my bucket list for the UAE; and I was not disappointed. On our way to and from Abu Dhabi, we stopped at the Last Exit; a very chill and fun food 'trailer' park.
The Green Planet
Even our friends in Dubai did not know of this; not really touristic, but a great place to spend your afternoon – hiding away from the Dubai sun. The Green Planet is an indoor tropical rain forest bio-dome, where you can discover the floras and faunas of the tropics in an enclosed ecosystem. It was a bit over budget for this kind of visit; but you don't always get to see the world's largest man-made and life-sustaining indoor tree. (100 AED or $27.5)
Dubai Aquarium
Of course, one of the biggest shopping mall in the world has an aquarium! Enjoy watching a great diversity of marine species and aquatic animals. (120 AED or $33)
La Mer
Another free experience you can enjoy. La Mer is a new beachfront that offers almost everything: cafes, restaurants, shops, and even a water park. Walk through its cool streets and appreciate all the street art you can find. (0 AED)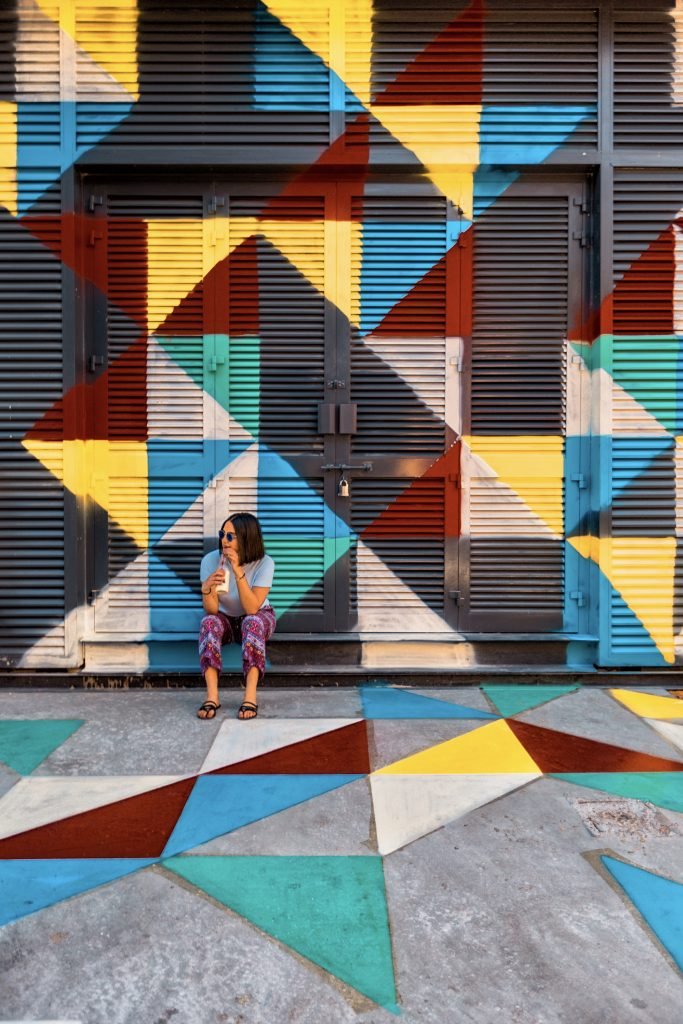 Al Seef
Old meets new. Located near the Dubai Creek, Al Seef combines both the traditional culture of Dubai with modern design and architecture, emphasized with local sand stone buildings. Enjoy the scenic water views, fine dining, and shopping, while appreciating local crafts and Dubai's proud heritage. (0 AED)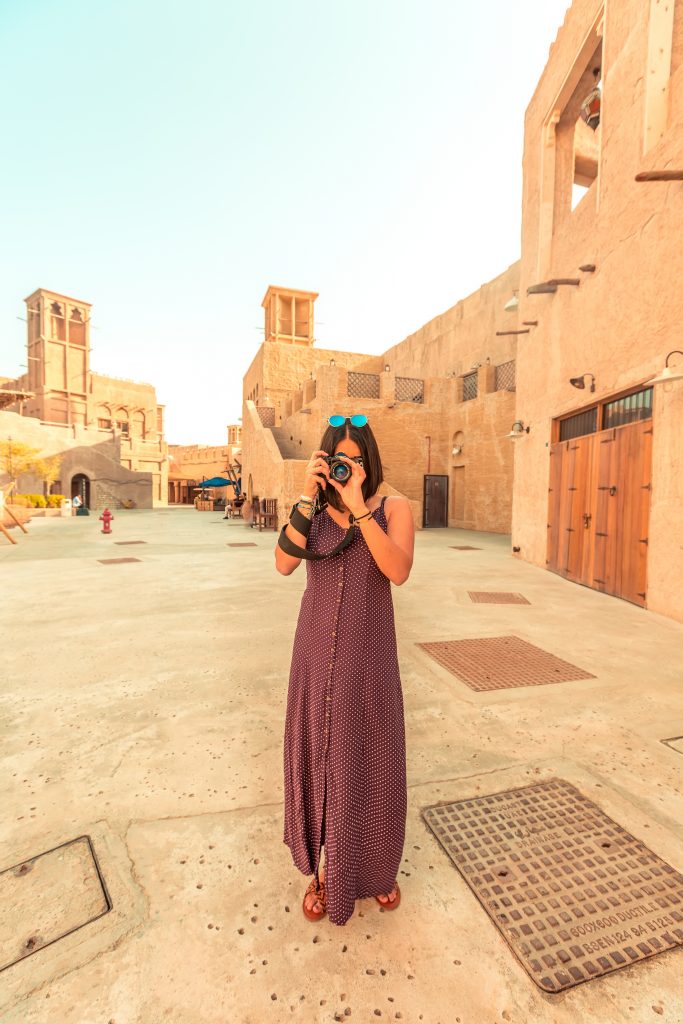 Madinat Jumeirah
One way to enjoy Madinat Jumeirah without actually being a hotel guest is to take the abra ride through its canals. A plus is you get an amazing view of Burj Al Arab. (85 AED or $23)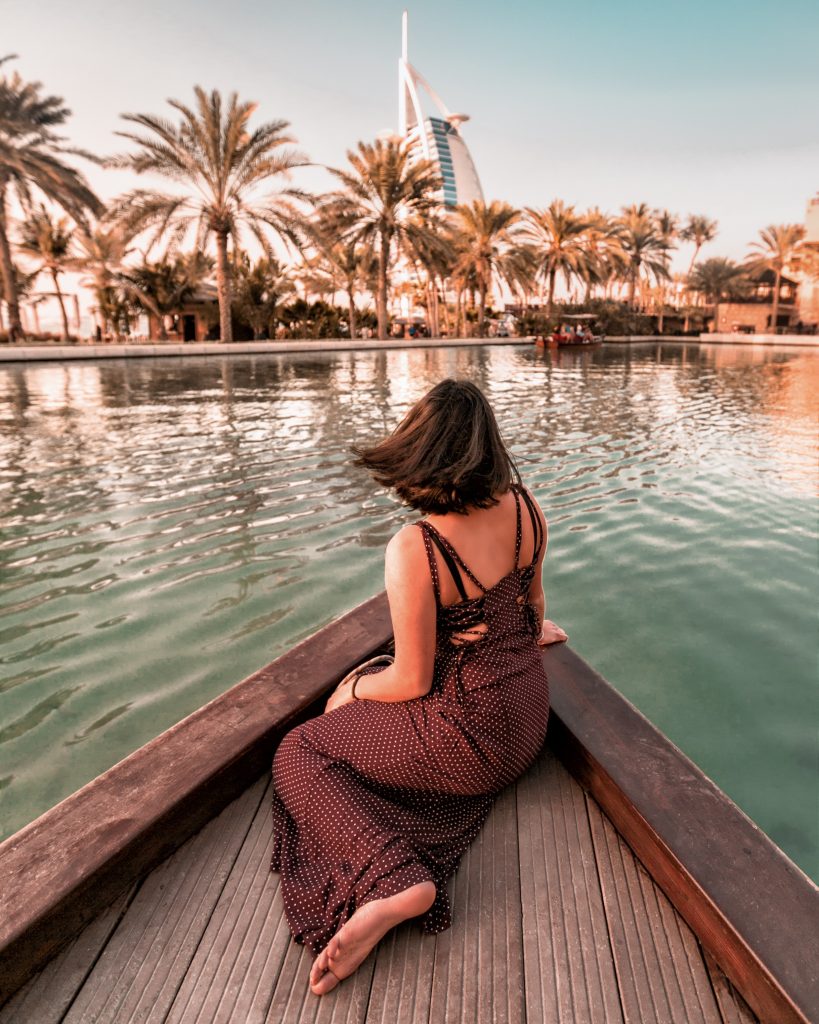 Al Madam Desert
One thing I really wanted to see in Dubai was the desert, and since we had just one day left, we decided to check out the abandoned village in Al Madam Desert. Far from the city's luxurious settings, you can find old houses taken over by sand. (0 AED)
If you're into all things luxury and money-spending, check out Christian (from LostLebBlanc) and Katy's (from WhatTheChic) vlog on Dubai's most expensive here.
Have you ever been to Dubai? Let me know in the comments below.
Like this post? Pin it or share it!